Boy Scouts, War, and the Beloved Mayor Wall
The Texas Story Project.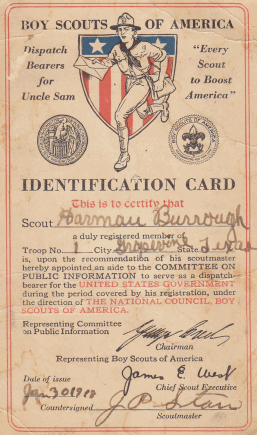 Boy Scout Card
Beloved Grapevine Mayor Benjamin Richard (B.R.) Wall brought the city a gift from his 1913 trip to New York City— the Unit Charter for Boy Scout Troop No. 7, one of the earliest Boy Scout troops west of the Mississippi. The troop, which is still active today, took on additional duties during World War I. President Woodrow Wilson entrusted the Boy Scouts of America to be the "government dispatch bearers in carrying to the homes of their community the pamphlets on the war prepared by the Committee on Public Information." On January 30, 1918, Troop No. 7 Scout Harman Burrough became one of Uncle Sam's "Dispatch Bearers" when he signed his identification card which was countersigned by Scoutmaster J. P. (John Proctor) Starr.
While the Boy Scouts circulated information for the federal government, Mayor Wall kept the citizens of Grapevine motivated and optimistic about the future through his weekly newspaper columns in the Grapevine Sun during the war. The weekly columns resumed when Wall served as mayor again during World War II. Wall had actually started the newspaper in 1895 at age 19, but sold it in 1897 to the J. E. Keeling family.

In addition to serving as mayor and establishing the Grapevine Boy Scouts, Wall is remembered as being extremely thoughtful of others who were less fortunate. In 1900, as a young man, he went to Galveston to help with disaster aid following the great hurricane that struck the island. He also initiated an international relationship with the citizens of Pitcairn Island, deemed the loneliest island in the Pacific. Beginning in 1912, he challenged Grapevine citizens to place items for Pitcairn Islanders in a box which he kept in his office and then shipped it to the island when it was full. Mayor Wall died on December 12, 1955. A statue of him with his box at the corner of Main and Wall Streets in Grapevine keeps his memory alive.
Posted July 21, 2014

Read stories from people across Texas
Browse All Stories