Anna's Coat: From Germany, to the US, to Internment Camps, to Germany, and Back Again
The Texas Story Project.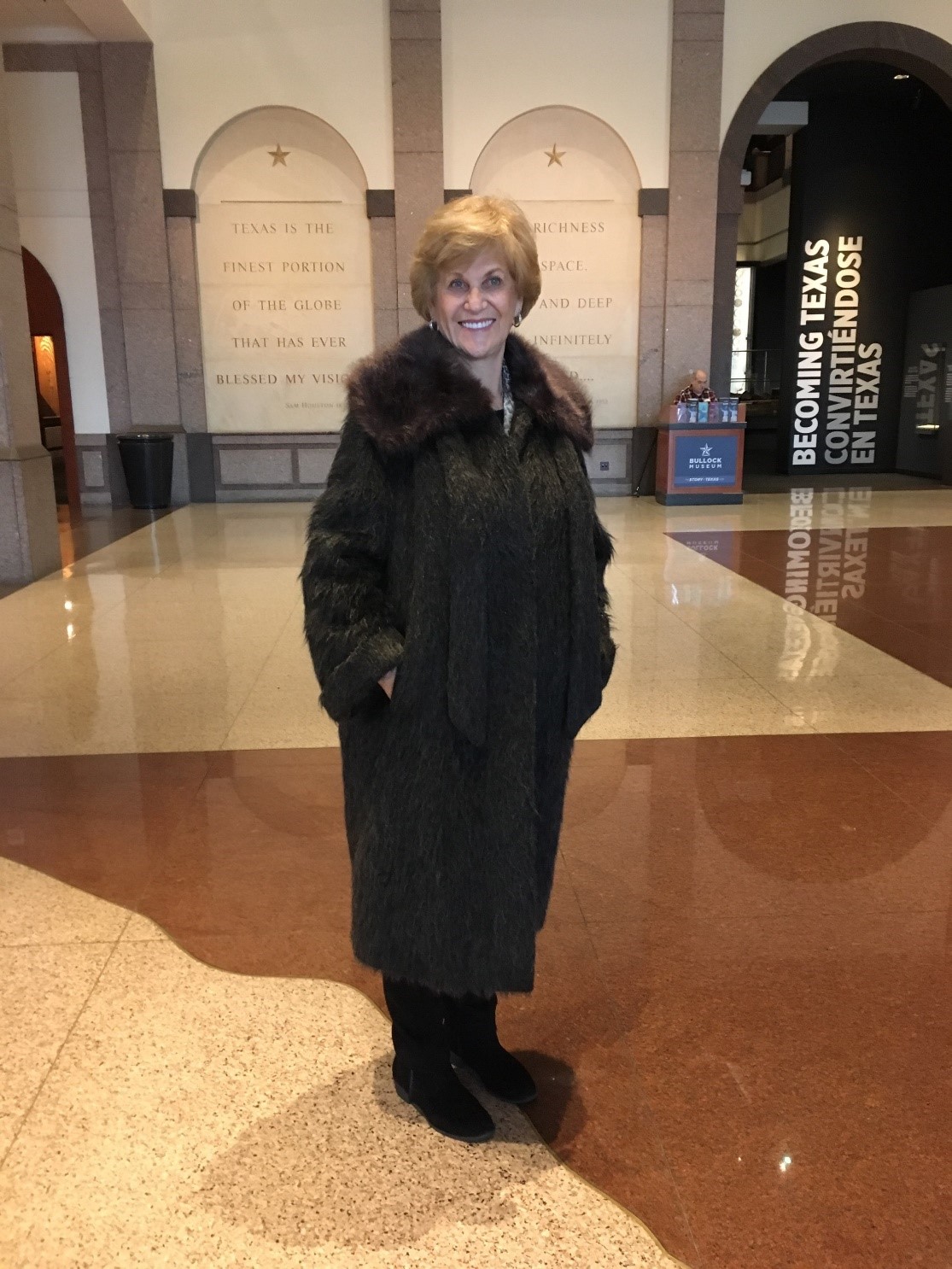 Jo Anna, born in an internment camp in Texas during World War II, is inaugurating the exhibit of the tickets of her family's expatriation, at the Bullock Texas State History Museum in Austin, March 2019.
It is well-known that Japanese Americans were held in camps by the United States government during World War II. Very few people know that German Americans were also interned in the same camps with Japanese Americans. Anna Wartemann and her family suffered internment in Texas. This is the story of Anna's coat and her internment as an "enemy alien."
In 1929, Anna put on her coat and immigrated from Germany to the United States to marry Wilhelm. They lived in Chicago and elsewhere before they came to Texas. Wilhelm specialized in refrigerator repair, but very few places had refrigerators in the 1930s—mostly only pharmacies, butcher shops, and funeral homes. Besides, the machines were built to last, so the family had to move often to find more fridges for Wilhelm to fix. A child was born in each new town.
By 1941, Anna and Wilhelm were living outside of Fort Worth in a small home with their four children. On December 7, 1941 Anna and her family were woken up in the middle of the night by FBI. The Japanese had bombed Pearl Harbor, but Germany and the US were not even at war. Still the FBI searched their home, threw all their belongings in the yard and arrested both parents. Anna and Wilhelm were in their pajamas, but Anna grabbed her coat before they took her away on that winter night.
The FBI left her four children standing in the yard, in the dark and cold, with all the family's belongings thrown on the grass. Anna was held in an internment camp in Seagoville, Texas—with her coat. Wilhelm ended up in North Dakota. He was desperate to reunite with his family. He had no idea where they were. The children had been taken to an orphanage. Internees in North Dakota were pressured to work, so Wilhelm asked to be a janitor for the officers. That way he could fish through their trashcans and find addresses. He wrote everyone for whom he found an address, including President Roosevelt, Attorney General Francis Biddle, Department of Justice Director of "Enemy Aliens" Edward Ennis, and FBI director J. Edgar Hoover. Wilhelm begged them to let them go free and finally, they were paroled in April 1942.
He and Anna brought their children home, Wilhelm got a job as a shoe salesman, and they conceived a baby. However, after only two weeks of freedom, they were arrested again and the kids forced back to the orphanage. Someone had accused Wilhelm of being pro-Nazi. Years later, the Wartemanns discovered that the accuser had offered no evidence. He just wanted to block "Germans" from taking "American" jobs during the Depression.
Anna gave birth to their fifth child, Jo Anna, while interned in Seagoville. The authorities took Anna's newborn away from her and gave her baby to a farm family to raise while they kept Anna interned in the camp. Wilhelm gave up on his goal of freedom and struggled instead to reunite his family in internment, including the infant daughter he had never seen. The Family Internment Camp in Crystal City was the only one that permitted families to be interned together, so he campaigned to get in. After being separated for nearly two years (except for the two-week reprieve), the family was finally reunited in the Crystal City Camp in October 1943. At long last, baby Jo Anna, separated at birth, could finally be restored to the arms of her mother, father, brothers, and sisters. Anna brought her coat with her to Crystal City.
Wilhelm continued to campaign for his family's freedom. The US government urged him and Anna to sign an agreement to repatriate to Germany so that the Nazis would release Americans interned in Europe. The Wartemanns knew they were being used as exchange bait and that they faced death and suffering in the war zone. But freedom and honor matter that much.
At 3:12 am on February 12, 1944, the family was put on a train to New York harbor with more than 600 other German Americans and German Latin Americans, many of them American children. On February 15, they were shipped off to Germany on the MS Gripsholm. They were being exchanged so that Americans held by the Nazis could return to the US and be free. New York newspapers wrote several articles about the Americans who returned in early March on the Gripsholm thanks to this exchange. But no newspaper published the truth that the US government was sending American children, including several born in New York City, to active warzones where they would be bombed by the Allies. Anna's five children, including her infant, Jo Anna, were all Americans. The family were required to carry their tickets with them at all times on the boat, so Anna put the tickets in her coat pocket.
In war-torn Germany, the Wartemanns experienced many hardships. Their town was one of the worst bombed in Germany. When the sirens sounded, they had to run to the bomb shelter. Baby Jo Anna was carried by her 12-year old sister while Anna herded the other 3 children. Anna was wearing her coat. Sometimes they did not make it to safety in time and had to jump in a ditch as American and British planes bombarded. Their home was firebombed so they lived in the ruins, in the rain and snow of that last winter of the war. They suffered hunger, though they did not starve because the Red Cross donated care packages to the Wartemanns' American children. The Wartemanns did not have enough money for clothes, not even for shoestrings, much less new coats. So, Anna kept wearing her coat.
In October 1952, after 8 years of tough times, the family finally returned to Galveston, Texas by ship. Anna was wearing her coat. Now a single mother, Anna worked as a school janitor to feed her five children. She begged the firemen posted in the station next door to watch out for her kids after school until she got home. They agreed. Every afternoon, the firemen put sweet potatoes in the potbelly stove to roast, timed to be ready to treat Anna's kids when they got off the bus. The firemen stocked children's books to help Jo Anna learn English. Now 76 years old, Jo Anna still remembers the kindness of her firemen neighbors.
When Anna died in 2000, her coat was still hanging in her closet. Jo Anna reached into the pockets and found a piece of her family's journey. In her mother's coat pocket were the tickets for the Gripsholm, each printed with the name of a member of her family. Jo Anna did not even know that her family had been interned and expatriated because she had been an infant and the family had kept the shame of their "enemy alien" status a secret. She began asking her older siblings, then researching all the way to the National Archives. Thanks to Jo Anna, those very rare tickets were on display in the Bullock Texas State History Museum for 15 months. 100,000 schoolchildren visit the Bullock annually and had the chance to learn about this history, thanks to the display of the tickets from Anna's coat.
In Anna's coat are unseen stories that must emerge from the pocket and the closet for all of us to see and remember. Her daughter, Jo Anna, wore her mother's coat at the ceremony on February 15, 2018 on Pier F in New York Harbor. That ceremony commemorated the 75th anniversary of the expatriation of American kids and their innocent parents—1,117 civilians aboard that day—who were sent away from the United States to be bombed and suffer hunger and cold so that other Americans could come home and be free.
---
Bianca-Rhae Jacquez is a junior History major at St. Mary's University. She is part of the German American Internment project at St. Mary's University. As a freshman, she had the opportunity to publish a shorter piece on Anna's coat with the Tenement Museum in New York City and she is eager to spread this history in Texas, too. Fluent in Spanish and English, Bianca is now also learning Portuguese.
Posted September 02, 2020
Join 11 others and favorite this
TAGGED WITH: St. Mary's University, World War II

Read stories from people across Texas
Browse All Stories