What a Mother Wouldn't Do for Her Kids
The Texas Story Project.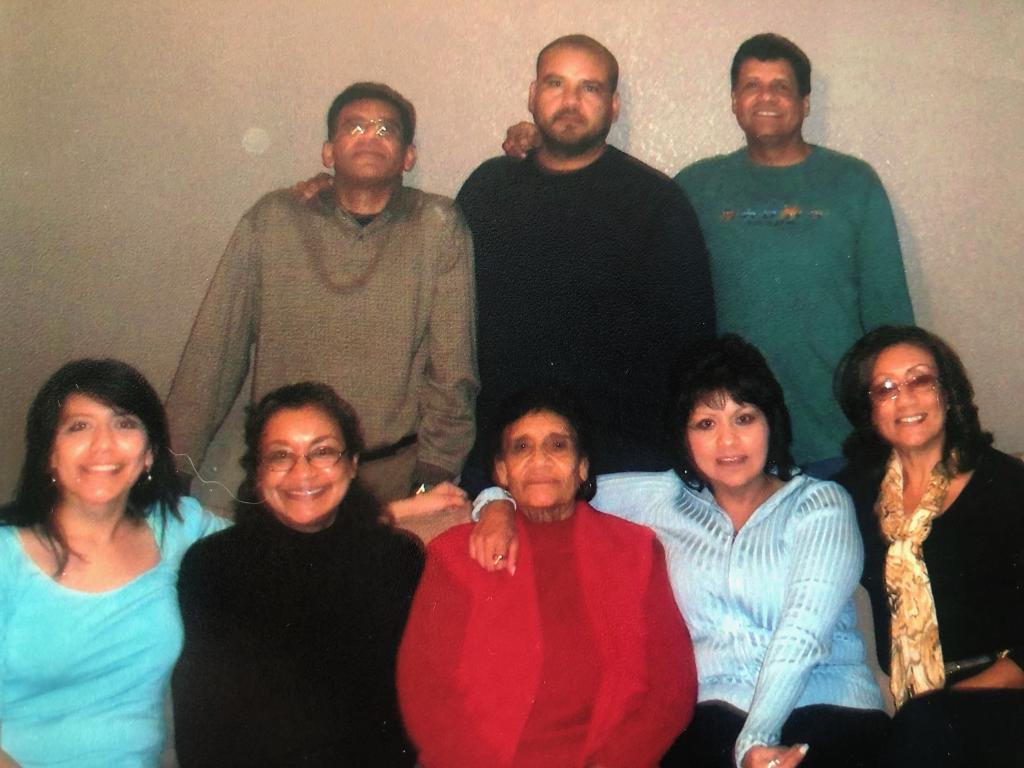 My paternal grandmother has nurtured our family roots through love and hard work. While in labor, my grandma walked three miles across the Zaragoza Bridge into the United States and to the hospital to have my father and each of his eight siblings.
After giving birth, my grandma would walk three miles back to Juarez, Mexico with her newborn in hand. Only having minimal financial support and even less paternal support, she accomplished a feat raising all nine children. Maria Amparo Anchondo Avila was relentless in her fight to give each of her children a better childhood than she had. Amparo taught them that building upon the foundation your parents have set for you is what to strive for in life.
Born and raised on a small farm in Villa Nombre de Dios, Durango, my grandmother learned very early on to not shy away from hard work. Hard work is a value not only she exemplified but passed down to her children. When her parents separated, Amparo and her mother moved to Juarez, Chihuahua. At the age of eight Amparo began working with her mom cleaning houses and shortly after, she dropped out of school. Her mother gave an eight-year old the option if she wanted to stay in school or drop out. The obvious answer that an eight-year old would answer would be to drop out. Now that Amparo is older, she regrets dropping out and wishes she had made it a priority. Making sure that her children and grandchildren don't make the same mistake is a priority. My grandmother constantly tells me to do my best in school so that I can have a better quality of life than she did.
At the age of 21 she got married and then had nine children. Still living in Juarez, Amparo realized the opportunity and benefits of being a United States citizen. Right before having each child, she would walk three miles across Zaragoza bridge and into El Paso to the nearest clinic to give birth, then walk another three miles with the baby the next day. Since she wasn't financially well off, she would have to pay the clinic in payments and walk back and forth regularly. Amparo made the conscious effort to give her children the life that she didn't have and knew that being a United States citizen was worth the walk. Amparo says that her biggest hope for her children is for them to be good parents and provide more for their children than she was able to. Her struggle has allowed for growth upon the foundation that she has set for her children.
On June 6th, 1985, Amparo was granted citizenship in the United States. She had a strong support system to help her throughout the process. My aunts and uncles helped quiz her on what she needed to know and took her to go take the test.
Now my grandmother makes her health a priority so that she can still be able to do things with her children and 19 grandchildren and soon to be 15 great grandchildren. The advice she has for each of her grandchildren would be to get an education so that we will be better off and have more opportunities than our parents had.
---
Bianca Anchondo is a freshman at St. Mary's University in San Antonio, Texas. She is currently studying finance and risk management. She is from El Paso, Texas and enjoys playing basketball and going to the gym.
Posted April 11, 2019
Join 5 others and favorite this
TAGGED WITH: St. Mary's University, stmarytx.edu

Read stories from people across Texas
Browse All Stories