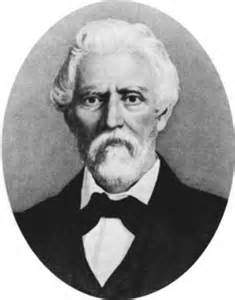 Portrait of Samuel Maverick
I became familiar with Sam Maverick through the work of Mary Belle McAllister Ingram, an historian, author, school librarian, and one of the founding members of the Matagorda County Museum. Sam Maverick was a land speculator, not a cattleman. He took cattle to Matagorda Peninsula, returned to San Antonio, and left behind servants to tend his land but with no authority to brand or sell the cattle. The Civil War had begun and with the men at war, the cattle were neglected and Maverick's unbranded herd multiplied and ran wild.
Sam eventually rounded up all the cattle he could and sold them in San Antonio. Many cows were left behind that other cattlemen began to rope and brand. There were laws regarding this practice: cows had to be at least one year old and weaned. It was also illegal to carry a branding iron on the range. All of Sam's "maverick" (or left-behind) were rounded up and branded by local ranchers. The cowboys crafted a makeshift branding iron by taking the D-ring from a saddle-cinch and throwing it in a fire. In this way, many local ranchers built up their herds with maverick cattle.
As the cattle drives arrived in Kansas City and other cowtowns, the ranchers were asked where they came by their cattle. They would respond, "Oh, them's some of them mavericks." Many area ranches up and down the coast got their start this way.
The term "maverick" today is used to describe any animal or person remotely unorthodox. The Mavericks have since left Matagorda County, but have left a legacy behind. This story is important to the museum and the county because it shows that our history doesn't just exist inside our county lines. Other people in other places have heard of these people and the lives that they led. It gives our citizens pride that others have shared a little of history.
Barbara Smith is the director of the Matagorda County Museum.
Posted August 01, 2014

Read stories from people across Texas
Browse All Stories