The Healthful Water of Mineola
The Texas Story Project.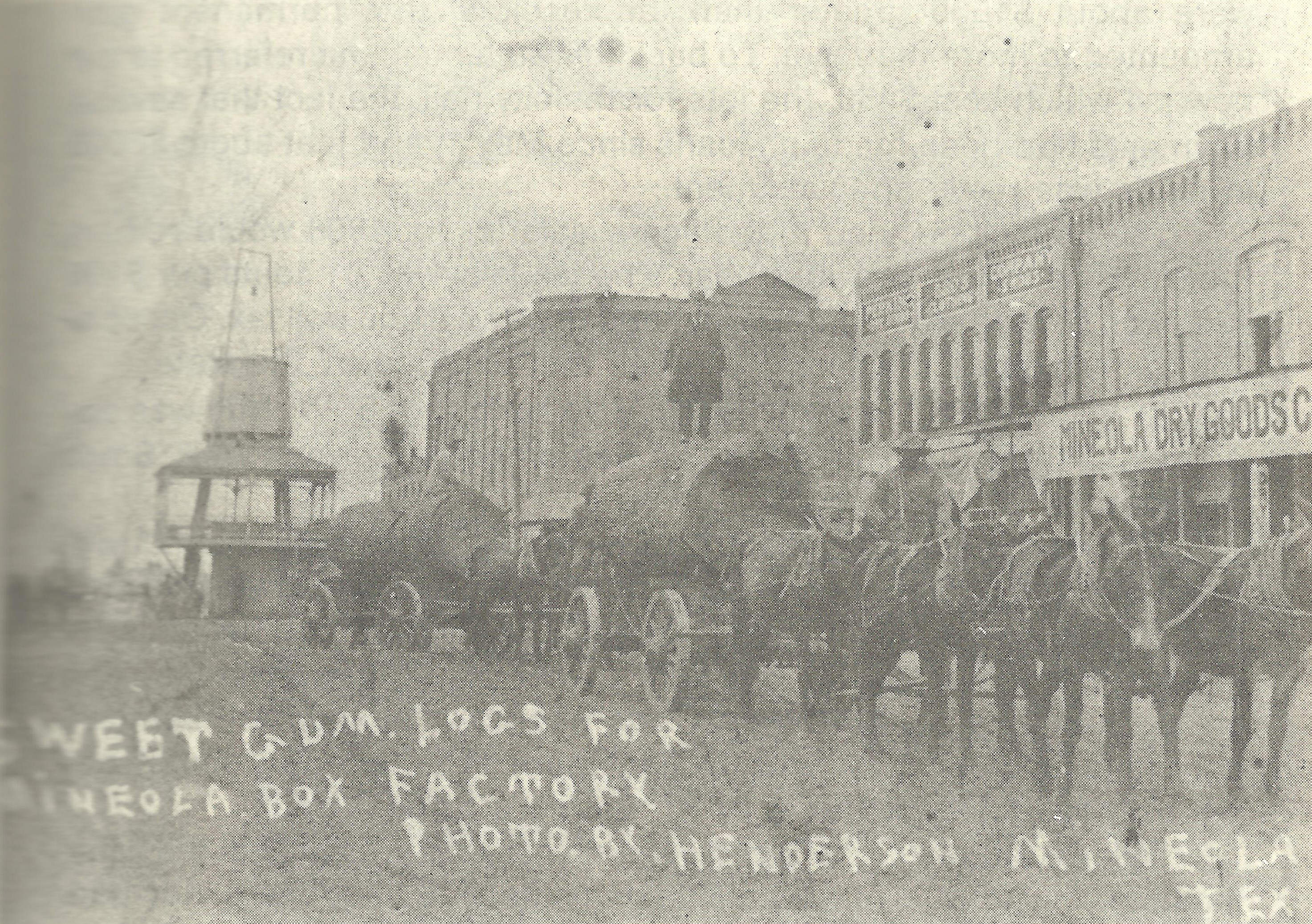 Mineola Water Well
If you travel back in time to Mineola circa 1908, the city center would look quite different, as shown by this photo. Dirt roads, fewer buildings, and wagons drawn by horse are all to be expected. But what is that structure behind the wagons? Although it no longer exists, the town of Mineola grew up around that structure – the city's water well.
The city water well was drilled sometime prior to 1895. The city's business district had developed around the artesian well with water known for its pleasing taste and healthful properties. By 1895, it was at the center of a business area that needed more water! In that year, the city erected a 60-foot tower windmill and a large tank in the middle of a downtown intersection to collect the water. Members of my husband's family have related stories of when they were children and went with their parents or friends to the well because the water was highly sought by the public. The water well also drew visitors on weekends and evenings with programming on its bandstand, also seen in this photo. Locals fondly remembered the music made by the Mineola Concert band. With unpaved streets and a slow traffic flow, the water well served as the center of Mineola life.

As area began to grow, talks between Mineola city officials and the Texas Department of Transportation were held concerning downtown Mineola. In 1920, on the advice of the Texas Highway Department, the city dismantled and removed the well to make way for wider streets to accommodate automobiles.

Although gone for almost a hundred years, the well is still fondly remembered by the community of Mineola. In 2011, our museum installed a half-size replica of the windmill and tank to preserve its history.

Lou Mallory is chairperson of the Wood County Historic Commission.
Posted July 22, 2014

Read stories from people across Texas
Browse All Stories