The DIY Darling of Texas
The Texas Story Project.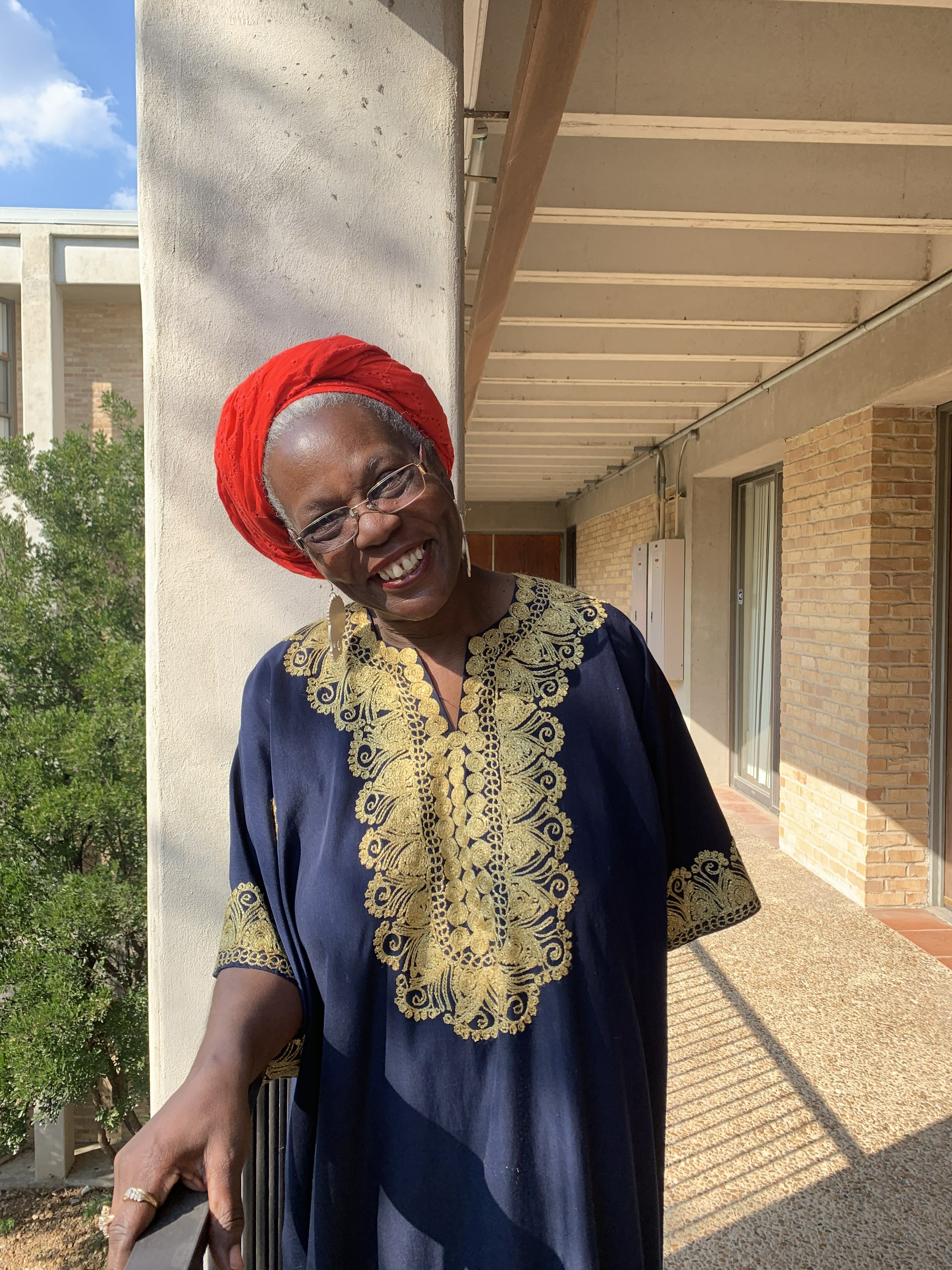 One minute. A mere sixty seconds. That is how short of a time it took to realize the warmth enveloping me was not due to the famous Texas heat, but rather the positive energy radiating off of the one and only Ms. Kathrine Johnson. Yet, her vibrant smile and infectious laugh are not the only amazing things about her.
One day a vivacious eleven-year-old girl, known as Kathy, begged her mom for a sewing machine in the Garden state of New Jersey. Her wish was granted with the condition she would no longer ask for any more clothes from a store. "Oh! Was she a woman of her word," Ms. Johnson chuckles while reminiscing about her mom. That girl grew up into a fine, strong woman who faced many hardships but never let them break her down. Instead, she sought to build other people up.
When her husband passed, Johnson wanted to fully support her children, prompting her to study Master Design Tailoring and Pattern Drafting in Philadelphia. In 1989, she then relocated to San Antonio, Texas to be with her twin sister and give their kids a chance to grow up together. When asked about what made her stay, she answered with one simple word: Hospitality. Johnson was enamored with the kindness that the locals seemed to exude, and this seemed like the perfect place to raise her children. She proceeded to open her own alteration and custom clothes shop known as "The Fitting Room." This was the culmination of her hard work thus far and it provided her with an escape when things got tough.
Johnson eventually had to close down her shop to take care of her daughter when she was tragically shot at a house party. However, "The Fitting Room" left its legacy in San Antonio, Texas with celebrities like Eva Longoria and the San Antonio Spurs seeking assistance with alterations. "They were really nice" she recalls with a sparkle in her eyes. Ms. Kathrine Johnson established deep roots in Texas in terms of her family and business, but more importantly she is making a difference in this state through her personal mission, advice, and overall messages.
Johnson currently works at St. Mary's University where she teaches Introduction to Costume Design and Construction. Her mission is to help people of all walks of life find their creative outlet. In her opinion, creativity gives people a needed escape from reality. "We find therapy in different forms of expressing ourselves, and if I can help someone find sewing as a way of doing that, then I have done what I am supposed to do," Johnson states. She is also a strong advocate for self-love. In her opinion, real "beauty" comes from within oneself. When asked what her favorite part of custom designing was she replied with, "Seeing the smile on people's faces when they are wearing something that makes them feel good."
All the experiences and hardships Ms. Kathrine has faced led her to develop important messages that inspire others. She is now a strong advocate for gun control and wholeheartedly believes the "Arts" at schools should be properly funded. When asked why, she provided a strong point. "Adolf Hitler and Charlie Chaplin were born in the same year. One was given an artistic outlet and used his energy for good. The other was denied of it and grew up to channel his energy for evil." She concluded by reinforcing that the arts are a wonderful way of making oneself and others happy while providing a needed escape when life gets stressful.
Johnson's advice for a better world inspires those around her and instills happiness in others, which in turn gets passed down and a cycle is created. In her opinion, doing one act of good leads to more. "You get what you give," she states. Another way Ms. Johnson changes lives is by going out of her way to help the community of San Antonio, Texas in any way possible. She has designed costumes for her theatre troupe that performs at the Carver Community Cultural Center, makes costumes for kids at schools with a small art fund, and teaches sewing to people with disabilities.
When asked what was in store for her future, Ms. Johnson did not hesitate in her response. Her goal is to open up an independent sewing school as well as a space where kids can come in and play "dress up" and have parties. Johnson's objective is to provide an environment where people can just come in and sing, dance, and overall express their creativity.
In conclusion, Ms. Kathrine's energy is of the purest nature because it is derived from the joy and smiles of others. The people around her strive to be a better version of themselves due to her positive messages, advice, and actions. In 1989, the Lone Star State received a precious gift. The stars at night are big and bright — due to Ms. Kathrine's light — deep in the heart of Texas.
---
Nydia Gabriela Ramirez is a first- year student at St. Mary's University. She was born in Brownsville, Texas and is now majoring in Political Science with a Minor in International Global Relations. Her career goal is to become a Medical Malpractice lawyer, however the arts are also big part of her life. She loves being in plays, musicals, writing and connecting with different people.
Posted April 11, 2019
Join 1 other and favorite this
TAGGED WITH: St. Mary's University, stmarytx.edu

Read stories from people across Texas
Browse All Stories