The Story of a First-Generation Mexican American in Texas
The Texas Story Project.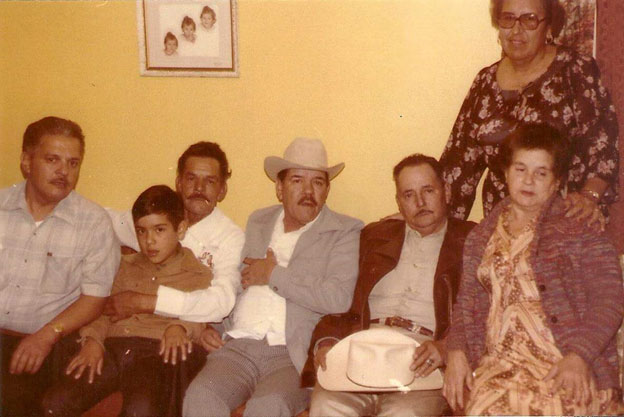 Photograph from left to right: Enrique Ruiz Montalvo, Lorenzo Ruiz Montalvo, Pablo Ruiz Montalvo (wearing hat, Noe's father), Octavio Ruiz Montalvo, lady sitting down Alfa Dalia Ruiz Montalvo (aunt) and lady standing in back is Hermina Ruiz, aunt, and of course, Noe, sitting next to his father on Lorenzo Ruiz Montalvo's lap.
"One of the things I really appreciated as being a first generation Mexican American growing up in Texas during the early 1970s is the fact that, being raised in a household which spoke only Spanish and being provided with only Mexican food, I was able to go outside my home and culture and enjoy eating at McDonald's, Hardees' and Kentucky Fried Chicken. This, at that time in my life, was heaven for me! Not only the choice for other foods, but also the ability to shop any store, and attend any number of movies at the numerous movie theaters available to me." Noe Ruiz
This story will provide not only the history of first-generation Mexican American Noe Ruiz, but also the history of his parents coming to America, becoming U.S. citizens, and raising a family in Texas during the 1970s.
Ruiz's parents were both born in Mexico. They wanted to improve their impoverished surroundings in the land of opportunity for them, the United States. His father, Pablo was from Veracruz, and his mother, Tomasa, hailed from Coahuila, Mexico. His mother legally obtained a crossing card, enabling her to cross the Mexico/Texas border to work cleaning houses, gaining a resident alien status, and eventually U.S. citizenship.
Noe's father, Pablo, was orphaned at the age of 9 and lived with an aunt. Due to his not being a birth child from his aunt, he was not able to attend school as his cousins did, and he had to work to help support his adopted family. Ruiz's father, Pablo, upon reaching manhood, entered the United States illegally with nothing but the shirt on his back. He worked in menial jobs until the late 1930s. Pablo, who spoke no English, met up with a policeman who spoke no Spanish, but somehow Pablo was able to relate to the policeman that he wanted to know how to legally become a United States citizen. The policeman brought Pablo to an Army recruiting station, where Pablo enlisted in the Army in which he remained for 8 years. Pablo served honorably during World War II, and upon his discharge, was granted U.S. citizenship, and worked as a truck driver until his passing.
Pablo and Tomasa met, and eventually married in Brownsville, Texas, where they adopted one child, and subsequently had three children of their own, the youngest being Noe. Pablo and Tomaso remained married for 28 years until the untimely death of Pablo. His death occurred while Noe was in the 7th grade.
Although Spanish was the language of the household in which Noe was raised, he learned English by attending public schools in Texas. The schools he attended had a student ratio of approximately 98% Hispanic, 2% Caucasian, and from time to time, an African American.
Noe was raised by his mother alone since he was in the 7th grade, as she never remarried after the death of Pablo. Noe states that his mother brought him up a little strict, but she emphasized that if Noe should get into trouble, no matter what the trouble would be, it would deter him in his future endeavors in life. She pounded into his mind, that, even if there was just one incidence of trouble in which Noe would be involved, he would have to carry that burden with him the rest of life. So, Noe, heeding his mother's guidance and warnings stayed away from any negative influences in his life. This also meant that, even though there were gangs during that period, he would refrain from being involved with anyone who had gang affiliations. His mother eventually changed professions from cleaning houses to working in a shrimp-processing facility, faithfully guiding her children in life until her passing in 2017.
Noe graduated from high school and went on to achieve an Associate degree from a technology school in Austin, TX, and chose to work in an industry catering to copy machines and their maintenance. Through his working with this company, he furthered his horizons by utilizing his mother's teachings and guidance, to becoming involved in the Information/Technology industry. Due to his mother's advice to avoid anything which would taint his reputation, he received a Top Secret clearance with no problem. He proceeded to excel in his career and landed a job with a defense contractor for the U.S. State Department. He has, as an employee of the defense contractor, been deployed to Afghanistan, Iraq, the United Arab Emirates, and again back to Afghanistan. He is currently living in San Antonio.
As for his views on the United States, Noe stated, "This is a great country. Anyone can aspire to become whatever they want to be or do. It is extremely evident that this is true as Americans, no matter what their disability, either physical or mental, will be accepted and incorporated into our society. You only see this happening in a few countries, one of the greatest of which is the United States".
For Noe's views on living in Texas, he observes things not evident to me until speaking with him. Noe states, "Texas is beautiful. You have the Gulf Coastal Plains, the Pine Belt, Post Oak Belt, Blackland Belt, Coastal Prairies, the Rio Grande Plain, North Central Plains, Eastern and Western Cross Timbers, Great Plains, the Hill Country, Toyah Basin, the Range Province, and Guadalupe Mountains. Basically, you have a little bit of everything here in Texas. Additionally, it is the harmonious blending of cultures living here in Texas. Many cultures are represented and are understood and tolerated here in San Antonio. Also, another thing I like about Texas is that there is no state income tax!"
---
Robert McLaughlin is a senior at St. Mary's University in San Antonio, Texas. Robert is retired from the U.S. Army after serving 27 years as a Counterintelligence Special Agent. Although already achieving a bachelor's degree in Sociology, he is currently in the process of achieving another bachelor's degree in Psychology. He appreciates the warm weather, affordability, numerous VA facilities and friendliness experienced in San Antonio, and is more than happy with the small community of students and professors at St. Mary's University who have accepted him with open arms.
Posted November 09, 2018
Join 5 others and favorite this
TAGGED WITH: St. Mary's University, stmarytx.edu
Read stories from people across Texas
Browse All Stories