The Space Quilt Challenge
The Texas Story Project.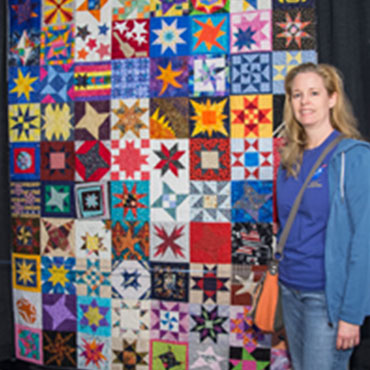 Maura White and the quilt that started in space.
I was chatting with NASA astronaut Karen Nyberg, Expedition 36/37 flight engineer, after a preflight meeting one day and she told me about her plans to "make 'something" in space with fabric. I didn't have any suggestions for Karen for making a patch, but I did offer advice to not lose the needle.
Not only did Karen keep hold of the needle, but her love for space and crafts ultimately resulted in a beautiful and unique quilt that was displayed during the 40thAnniversary International Quilt Festival in Houston.

The quilt began with Karen's 9-inch square, which she completed during her space flight from May 28 to November 10, 2013. In a video downlinked from the orbiting laboratory, Karen admitted that sewing in space was "tricky."
Stacey Menard, deputy chief for the Safety and Test Operations Division, jumped at the chance to contribute her efforts to the unique crafting challenge that combined two of her passions—space and quilting. Since the project was started by an astronaut, Stacy also wanted to involve as many quilters associated with NASA and the Johnson Space Center (JSC) as possible.
What no one realized, however, was how the project would grow exponentially—much like our rapidly expanding universe.
Participants from all over the globe began submitting their own star-themed blocks for the quilt. Stacy remembers that, when the project was first advertised, Quilts, Inc.—the company that stages quilts and soft crafts shows— anticipated displaying about 10 panels of quilt blocks. They received over 2,400 blocks!
Getting the quilt to the festival in one piece required not only a "block party" to assemble the blocks into panels, but also a "binding party" to sew the quilt to the backing. There was also a one-day blowout session at the Gilruth Center to attach the binding and hanging sleeves. As I worked my way through the large pile of blocks stacked next to my sewing machine, I was amazed by the fact that I was sewing together blocks in no particular order. I put blocks from Ohio next to blocks from Australia and Japan. The League City, Texas, block went next to a block with a star originally pieced together in 1880, which went next to the block from Canada, which went next to the block from Russia. My panels spanned the world, and time.
Quilter Tammy Bourgeois contributed a quilt block and sent this message with her submission: "Enclosed is my star quilt block for Karen Nyberg's challenge. I would be honored to have my block incorporated into the quilt with a block that was made in space. This block was not made in space, but it was made lovingly with two hands that helped launch many astronauts into space. I am proud to say that I worked 19.5 years as a chemist/engineer for Lockheed Martin on the Space Shuttle Program at the Michoud Assembly Facility in New Orleans. Thank you for the opportunity to contribute and to be a part of this history-making quilt."
I'm so lucky to be a part of global projects like the International Space Station and the space quilt challenge.
Maura White is a multimedia technical monitor for NASA's JSC Information Resources Directorate.
Posted March 09, 2015
Join 7 others and favorite this
TAGGED WITH: Historic Trades and Crafts, Space Exploration

Read stories from people across Texas
Browse All Stories