Raising Galveston Above the Gulf
The Texas Story Project.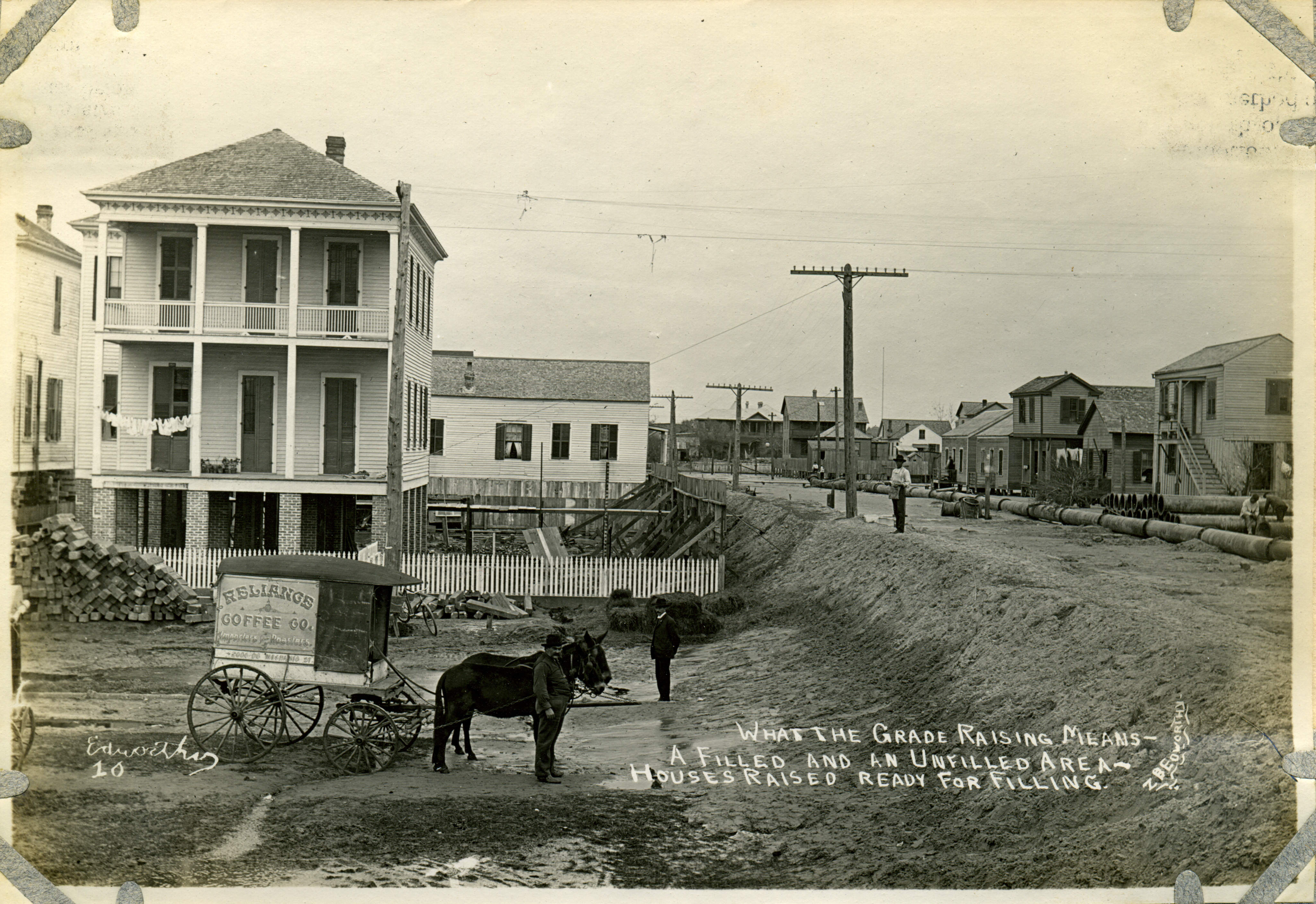 1903 photograph of Galveston
In September 1900, the small but prosperous island city of Galveston experienced what remains the worst natural disaster in United States history. It is well known that the hurricane devastated the island and claimed the lives of approximately 8,000 of its citizens. However, few people are aware of the perseverance, resilience, and ingenuity Galvestonians exhibited in the wake of this incredible tragedy.
A board of engineers was appointed in 1901 to develop a plan to fortify the city against future flooding. In addition to the construction of a seventeen-foot, three-mile-long seawall, the board recommended raising the city's grade, or elevation. At its southern edge, the elevation would match the seawall's height and then gradually slope towards the bay. This was an ambitious, expensive, and unprecedented undertaking. Zeva B. Edworthy documented these remarkable efforts with his camera.
This photo from Edworthy's collection, donated to the Galveston County Museum in 2006, shows the grade-raising portion of the project which began in 1903. In order to accomplish this monumental feat, two to three block sections were enclosed with earthen levees. All the structures and utilities within those sections, including houses, fences, water pipes, and street car tracks, were then lifted off their foundations using jackscrews or stilts.
Sand was collected from the bay by four self-loading hopper dredges and transported to the residential district using a canal dug specifically for the project. The dredges discharged sand into the raised sections of the city using a series of large pipes. Once the discharge dried, enough sand remained to bring the ground to a higher elevation. Homeowners were responsible for the expense of raising their homes and fences. In many cases, when homeowners could not afford to raise their residences, they would simply move to the second floor and allow the first to be filled in. Residents and visitors alike navigated the city using an ever-changing and precarious network of wooden catwalks built above the slow-draining ground.
From 1903 to 1911, approximately 500 city blocks were raised, the elevation increasing anywhere from eight to seventeen feet above the pre–1900 levels. The challenges of such a monumental civic engineering project are staggering, even by today's standards, making the efficiency and efficacy with which it was completed in the early twentieth century all the more remarkable.
Nikki Diller is the Curator of the Galveston County Museum.
Posted July 22, 2014

Read stories from people across Texas
Browse All Stories