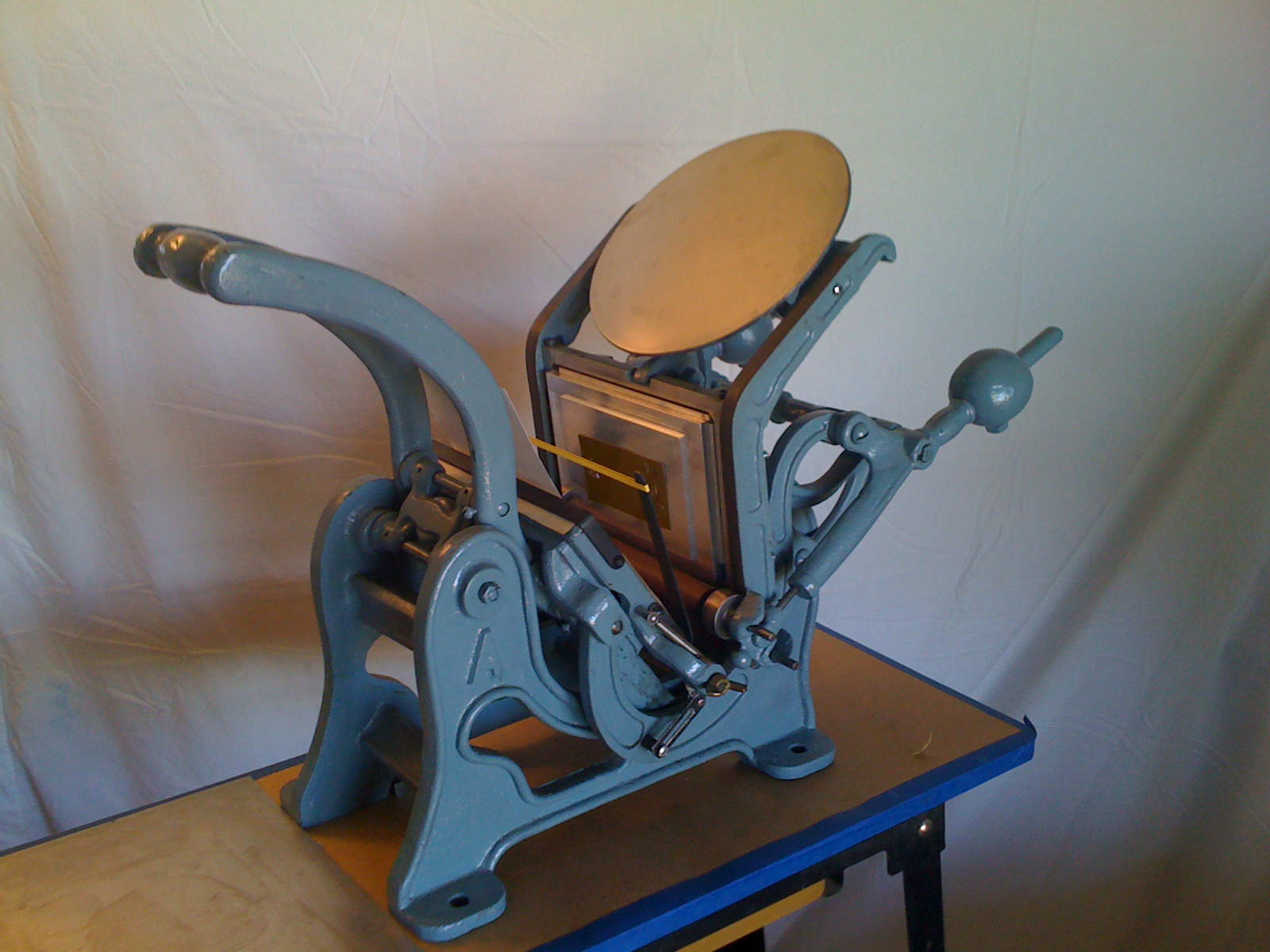 Restored Letterpress
In 2005, my family spent Thanksgiving camping at Mother Neff State Park, near Belton. During the trip, we visited The Grove, a ghost town turned "living history museum" owned by Moody Anderson and filled with antiquities, odds 'n' ends, and general historical stuff. The museum was closed that day, but that didn't stop us from pressing our faces against the windows to appreciate the collection. I had taken my first letterpress printing class earlier that year and was immediately attracted to couple of letterpresses I spied in one corner.
Then in February of 2010, Moody decided to sell The Grove and auction everything in it. So, when friends told me they're going to the "Goodbye to The Grove" party, I had to go too—to give Moody a hug, of course, but to also see those presses. There, I found a little press, rusted and corroded, tucked away on the floor. The press was a Daughaday Model Press, estimated from 1874. At one point, it belonged to the Gatesville newspaper. It was clearly in very poor shape and beyond repair, and I quickly gave up on the idea of trying to buy it.
A few months later, while visiting my parents for Mother's Day weekend, my father took me to the barn to show me his latest project. It was the same press I had found at The Grove! He bought it at the auction and had spent the past month restoring, disassembling, sandblasting, reassembling, painting, and calibrating it. Thus, my letterpress was born! And what adventures we have had ever since. What parts were missing were found, ordered, or made by my father. When a piece broke off in the middle of a press run, I stood there fearing letterpress doom; but my father threw his hands up in a football extra point "It's good!" gesture, saying "It's no problem! I can fix it!" For Christmas, I gave my father a fake Master in Printing Technology diploma. He earned it.
Through all of this adventure, my mother was very patient as my father and I would spend each press run working long days. One press run had us overtaking the living room and dining room. By midnight of Thanksgiving Day, my cards filled her dining table. I promised her that we would have the dining room cleared and the living room presentable before guests arrived. By 6 a.m., my father had the turkey in the oven and I had the table set and decorated with pinecones from the farm. She was so happy!
After it was restored and working, I invited Moody to see the letterpress. He was proud to see it restored and in full operation. Ever the collector, he gave me woodblocks as well as a printers' publication from 1890.
Carla Click is a letterpress designer and printer in Austin.
Posted August 01, 2014

Read stories from people across Texas
Browse All Stories