Memories of the 1966 UT Tower Shooting
The Texas Story Project.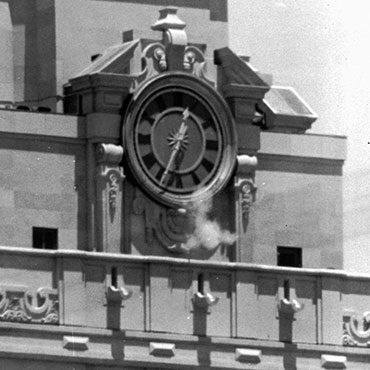 Puffs of white smoke as Whitman fired from the Tower. (AP)
On the day of the UT Tower shooting– August 1, 1966– I was employed at St. David's Hospital, located at 900 East 32nd. Street in Austin, Texas. I had just sat down to have my lunch in the hospital cafeteria which was located on the ground floor of the hospital.
There were floor to ceiling windows the entire length of the dining room and they faced south, with a clear view of the Tower, which was about 1/2 mile away. I heard the sounds of many gun shots and could see puffs of smoke coming from the Tower deck. I saw a DPS airplane get fired on as it flew directly over the sniper.
All hospital employees were told to remain inside the hospital and to expect to receive wounded victims. I believe we actually received three victims who were not seriously wounded. At that time, the Travis County Blood Bank was located directly behind St. David's and long lines of people offering to donate their blood quickly formed.
We continued to monitor the shootings on the hospital's black and white TVs and we listened to KTBC radio broadcaster Neal Spelce's live reports from the scene. Another KTBC reporter named Paul Bolton was stationed in Brackenridge Hospital's emergency room and he would announce the names of the casualties as they became available. At one point, he announced the name of his own 9-year old grandson who had been riding his bicycle in the UT area. A golfing friend of mine was having his hair cut in a barbershop on the Drag (Guadalupe Street) when he stepped outside to see what was going on. A bullet struck him in the shoulder and resulted in permanent damage. Finally about an hour and a half after the shootings began, the sniper was killed by an Austin policeman, with the aid of a civilian.
Historically, this was probably the saddest and most horrendous event in the history of Austin or the University of Texas. For many weeks, countless TV, radio, magazine, and newspapers stories were filled with details of the sniper and his victims. Although it has been almost 50 years since the shootings, I still have nightmares and feel very sad about that event.
Posted March 04, 2015

Read stories from people across Texas
Browse All Stories