Mrs. Kitley's Boarding House
The Texas Story Project.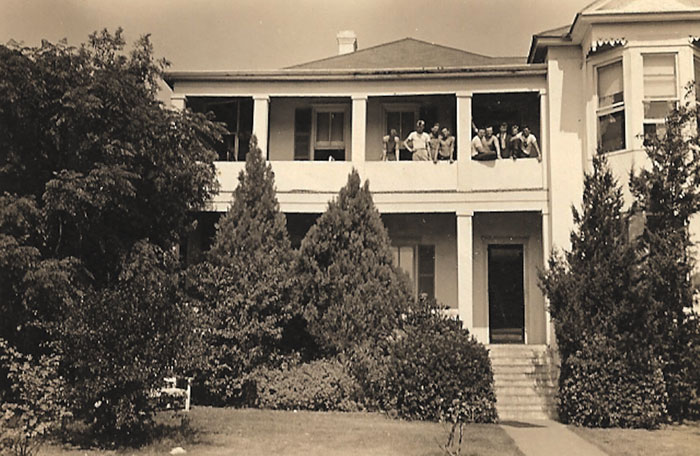 Mrs. Kitley's boarding house and residents.
My grandmother, Alice Gertrude Wheeler-Kitley (Mamaw), owned a boarding house for the University of Texas male students in the 1940s through the late 1960s. It sat on the property of the current Bullock Texas State History Museum, about where the giant star stands now.
Mamaw was born on the Kansas prairie in 1887. By the time she was seven, her mother had died and her father raised the seven children alone. In 1905, when Mamaw was eighteen, she lost her father. Her five brothers, hearing about the available land in Canada, moved to the province of Alberta. She did not want to go, so, at the age of eighteen, she boarded a train to Indian Territory (present-day Oklahoma) and procured a room in Mrs. Brown's Boarding House in Broken Arrow where she taught Mrs. Brown's daughter piano in exchange for free boarding. She also worked at a candy store. A handsome young man from Indianapolis, Spencer Walter Kitley (Papaw), moved to Broken Arrow where he was employed as a telegrapher for the railroad. He and my grandmother married on December 22, 1907.
In 1914, the Canadian government was offering free land leases for anyone who would grow hay for the war effort, so my grandparents moved north and lived near Mamaw's brothers. The winters were so cold that Mamaw said she would wake up in the mornings with ice on her quilt! The long winters were very hard to endure, so Papaw bought her a piano to keep her occupied when she was not doing her regular chores or taking care of their three little children. By 1918, the war was over and the land-lease program was disbanded. Mamaw and Papaw, with three children and a piano, took a ferry down the major waterway from Alberta, Canada, to Spokane, Washington, where the entire family contracted the flu during the Spanish flu pandemic which killed 50 million people worldwide.
After a year of recovery, the family boarded a train for Texas where Papaw worked for the railroad as a telegrapher, first in Eastland and then in Troupe. By 1935, not only were they going through the Great Depression, but Papaw had also contracted tuberculosis and was sent to the state tuberculosis sanitarium in West Texas for three years. Mamaw knew she had to support her five children, so she moved to Austin where she rented a small boarding house at 2308 Sabine, where the LBJ Presidential Library is now. After a year of success, she rented a larger house at 1906 Speedway, which was across from the present-day UT intramural field.
In 1941, she purchased a large boarding house at 1810 Congress Avenue, two lots over from the corner of today's Martin Luther King, Jr. Boulevard. "Mrs. Kitley's Boarding House" was well known among the male students on campus. Mamaw prepared two hot meals a day for any male student on campus. The fifty-cent meals always included homemade hot rolls and desserts and a lot of motherly love for the boys away from home. There was always a line stretched down the sidewalk and into the street! Papaw was never able to work again after his tuberculosis and Mamaw did what she had to do to take care of her family. Papaw died in 1962.
Mamaw retired from her boarding house in 1969 and died in 1979. Everyone who knew her had nothing but kind words to say about her. She was a true pioneer!
Vicki Youngblood-Reynolds was born in Tom Green County. Her research on her grandmother's property goes back to the original 1836 survey owned by Samuel Gotcher, which included the land where the current Capitol is located. This research is available at the Bullock Museum and at The Dolph Briscoe Center for American History at the University of Texas at Austin.
Posted January 25, 2015

Read stories from people across Texas
Browse All Stories