Mac and Kay in Brownwood
The Texas Story Project.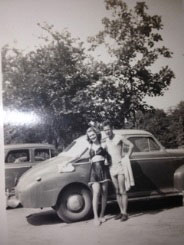 Mac and Kay.
Sixty-seven years, 5 months, and 26 days. That is the length of my grandparents' love story; but the amount of time, while impressive in its own right, does not do their legacy justice.
It began in early August, 1943. Set up on a blind date, they met at a local bar in Oklahoma. He offered her a beer; she didn't drink. She offered him a cigarette; he didn't smoke. But somehow that night, they forged a connection, and that connection lasted through all of life's twists and turns.
Fast forward three months. The couple, Mac and Kay, were now engaged, and were planning a beautiful spring wedding. However, Mac soon received orders that he would be transferred to Camp Bowie, in Brownwood, Texas. Knowing that he wanted his love, or "pretty girl" as he called her, to be with him, he sent a telegram to Oklahoma telling her he would be home December 23. He asked her to marry him on Christmas Eve, so that they could begin their adventure together in the unknown vastness known as Texas. My great-grandfather was furious at the announcement. He was already extremely wary of my grandpa, and he did not, under any circumstances, want his daughter moving to such a God-forsaken place as Texas. My grandmother refused to back down, and Mac and Kay were married on Christmas Eve, 1943. They immediately moved to Camp Bowie, where they would live until my grandpa was shipped off to World War II.
I am blessed enough to have had the chance to listen to my grandparents' stories, both as an uninterested child/adolescent, and again as an adult who could never get enough. Camp Bowie is where my grandparents, having only been dating for three months, and all of that long distance, truly got to know each other. They learned about the other's idiosyncrasies, the things that annoyed them, the things they loved. My grandpa loved to tell me about the walks they would take around Brownwood. They loved the town, and anytime I travelled anywhere in Texas, my grandpa would have a map out, telling me the exact mileage from where I was to Camp Bowie. They forged lifetime friendships with other military couples there— friendships that lasted through the war, children, grandchildren, and all of life's struggles.
While the majority of my grandparents' marriage happened outside of Brownwood, for them, it was the place they looked back on the most. It molded, shaped, and created who they became as husband and wife. Their love story lives on through my grandma, who even while in the deepest throes of Alzheimer's, will still ask us where Mac is, and if he's home yet. He's been gone three and a half years, but she still looks. Every day. Camp Bowie was the beginning of a 67-year legacy. And it is a place that will always be dear to this family's heart.
Posted August 22, 2014
Join 7 others and favorite this
TAGGED WITH: World War II

Read stories from people across Texas
Browse All Stories