From Costa Rica to the Crystal
The Texas Story Project.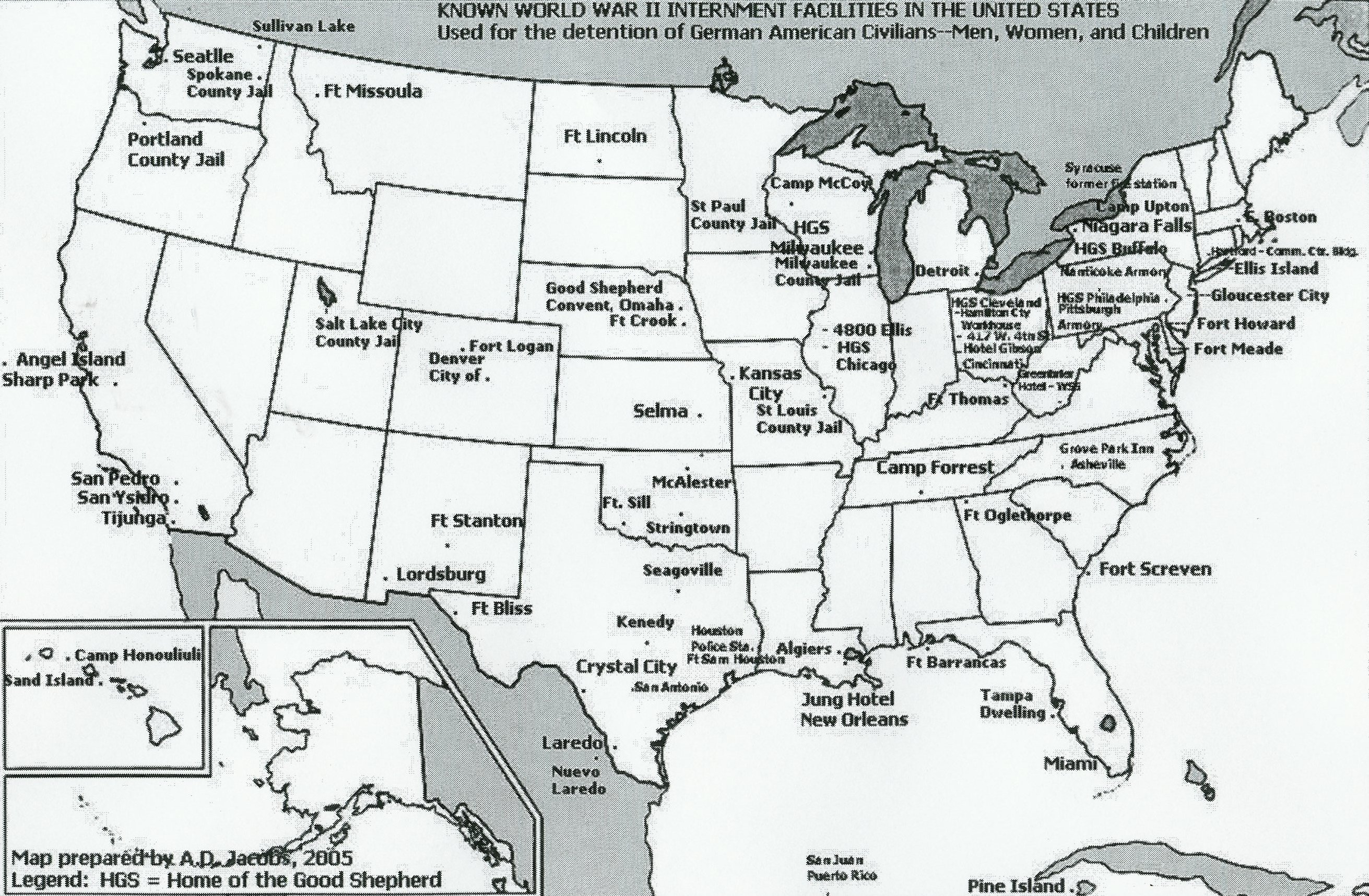 Map of German Internment camps in the United States including Crystal City
They say everything is bigger in Texas, and unfortunately, that meant greater wrongdoings to German Americans and German-Latin Americans by the US. Amidst war in Europe, Americans were playing a dirty game themselves, especially here in Texas. American soldiers were forcing German citizens of Latin American countries to go to Texas and into internment camps that violated human rights.
A document from 1943 described one of the many voyages transferring German-Latin American families to the United States. This specific group was from Costa Rica and was traveling to Crystal City here in Texas. The men were separated from their families on a sea vessel meant for troops and stuffed into tiny rooms. Each room would consist of about 20 men, while the women and children were put into cabins away from their husbands. Rules were extraordinarily strict for the German internees as they weren't allowed to touch any of their own belongings for the first four days of the trip and were only allowed 25 minutes to eat with no tables or chairs. Men were only given 2 meals a day, while the women and children were given three, however they followed the 25 minute rule as well. Fresh fruit was reserved only for the Americans, and drinking water was very poor quality. These conditions lasted until the internees were in the Crystal City family internment camp and out of the vessel.
At the camp, conditions became better, as families got proper shelter, clothes, food, and water. Although they were treated significantly better from their voyage at the camp, they lacked freedom, and couldn't even walk outside the barbed wire fences. The only way to leave was for the internees to be traded for prisoners of war with Germany, being notified every month by a list posted in the camp of who is being traded, or repatriated. Germans had mixed feelings about this as some wanted to go back to their home countries such as Costa Rica, and some wanted to stay at the camps because they had made a life for themselves inside. Even after the war ended, many internees had to stay at the camps because they had no money, or nowhere to go back to since many parts of Germany were destroyed. Until this day, German internees have not received their deserved recognition for what they had to endure. Bills were passed to help aid the Japanese internees financially during the 80s and the government apologized for their wrongdoings, however, German internees were essentially forgotten about. The few remaining internees deserve to be recognized by our country for all they had to endure in camps such as the one in Crystal City and all over Texas.
---
Jayson Folsom is a computer science major in the class of 2024 attending St. Mary's University. He was born and raised in San Antonio, TX, and graduated from Brooks Academy of Science and Engineering. Jayson has a passion for robotics and programming and is pursuing a career where he can use his skills to make a difference.
Posted March 14, 2021
Join 6 others and favorite this
TAGGED WITH: St. Mary's University, stmarytx.edu, World War II

Read stories from people across Texas
Browse All Stories