It's Three O'Clock Somewhere
The Texas Story Project.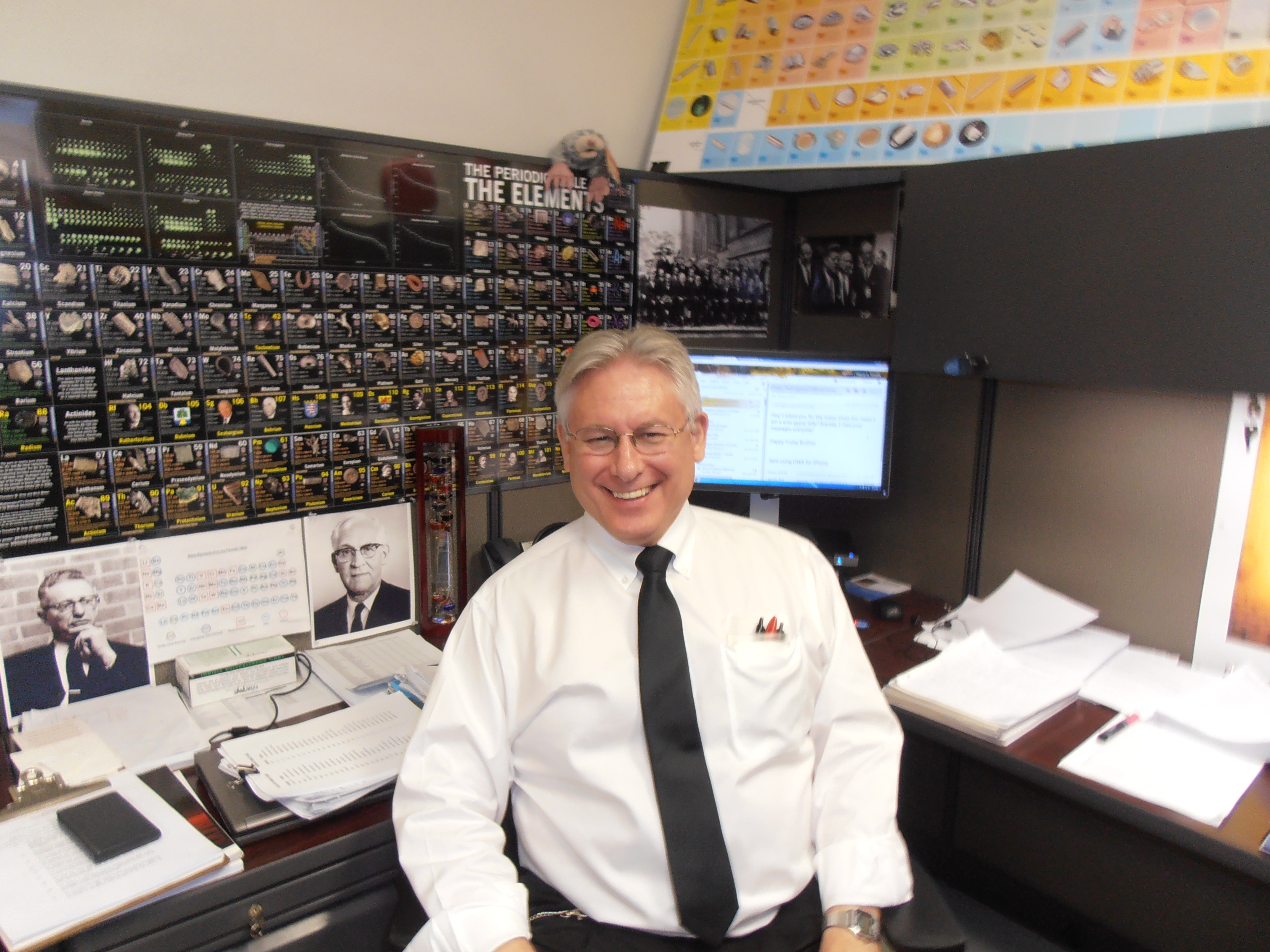 Brother Tim Pieprzyca smiles joyfully as he sits in his office.
Educate for formation in faith, provide an integral, quality education, educate in family spirit, educate for service, justice, and peace, and educate for adaption and change. This is what it means to be a Marianist educator. While the term "Marianist" is hardly heard in many parts of the country nowadays, St. Mary's University Chemistry professor, Brother Tim Pieprzyca, has been living Marianist charism since he was a child.
Born and raised in Milwaukee, WI, Pieprzyca, better known as Brother Tim to his students and colleagues, lived in a lower middle-class "parochial Polish neighborhood." The son of two World War II veterans, he attended a Catholic grade school and high school, and it was at his high school that he first met the Marianist brothers. "I was really impressed with the brothers because they were very brilliant and gifted teachers. Back then there were a lot of them," and Pieprzyca decided to follow in their footsteps. After graduating from Don Bosco High school, he committed himself to a Marianist vocation and was a novitiate for a year before attending St. Mary's University in San Antonio along with 90 other young brothers.
"Those were interesting times," he recounts. The other brothers were "gifted young men who were politically active, spiritually active, and active within their discipline," and Brother Tim was no exception. "I got a double degree: B.A. in Latin, B.S. in Biology, along with Theology, Education, and Chemistry minors." While St. Mary's is a relatively quiet campus in 2019, back then it was a little bit different. "It was a very cool time. People were very attuned to the political situation. There were little demonstrations on campus and stuff like that," regarding multiple issues. "During the 60's and 70's, St. Mary's students achieved national notoriety for their involvement with such icons as Cesar Chavez and Jose Angel Gutierrez. St. Mary's was a center of activity for the Chicano Mexicano civil rights movement in San Antonio. La Raza Unida movement was active on campus along with a number of local organizations," and Pieprzyca was a witness to this during his four years as a student and beyond. After obtaining his double degree and two minors, Pieprzyca went on to teach Biology in Catholic high schools in the Midwest, but soon realized that teaching Biology wasn't his true calling in life.
"When I was teaching biology at St. Mary's High School in St. Louis, we had copperhead snakes in the classroom. So, I had to take care of the copperheads, and I decided that wasn't something I wanted to do. Taking care of copperheads so I could feed little mice to them wasn't something I wanted to base my life on." So when it came time to pursue a graduate degree he went for chemistry. Throughout the course of teaching multiple chemistry classes at the high school and college level, Brother Tim has "found that chemistry students were more mature and smarter. Back then biology was a requirement, but chemistry was an elective, so the students who were learning chemistry were truly interested in it," he says.
As for what he enjoys about teaching at a Marianist institution, he notes "It's family spirit. It's the feeling of being part of a family, building community, taking care of everybody who lives in our community, and working for the common good with the spirit of Christ-like brotherhood." And it's evident that Brother Tim lives out this charism daily. As he approaches the conclusion of his 50th year of being a brother, he reminds students to "put your studies first, the rest will follow. Find joy in intellectual pursuits," and as one of his students I can wholeheartedly say Brother Tim inspires me to do just that. Whether it's making pop culture references in General Chemistry II or waking up early to pray for his students, Brother Tim is the quintessential example of what Father Chaminade meant by "the essential is the interior." My peers and I are lucky to have him as a role model in our lives. So here's to 50 more years, Brother Tim.
---
Ratna Ramaraju is a first-year Biology major and Chemistry minor at St. Mary's University. Some of her academic interests include women and children's health, healthcare at the Texas-Mexico border, and mental health accessibility in rural areas. While she is unsure as to what career she wants to pursue, she hopes life will take her to anywhere she can give back to her community. When she's not at the library or in lab, you can find her in her room watching videos on biology or chemistry. In her free time, she loves to laugh, make nerdy jokes, and bake cookies.
Posted April 16, 2019
Join 9 others and favorite this
TAGGED WITH: St. Mary's University, stmarytx.edu

Read stories from people across Texas
Browse All Stories