La Reina de San Antonio
The Texas Story Project.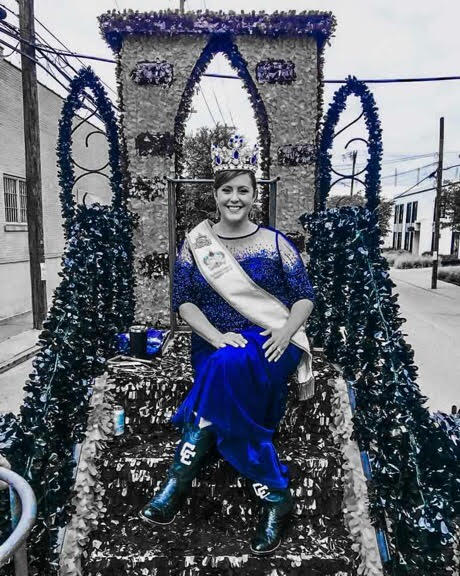 La Reina Linda
Imagine yourself as royalty, what would you do? How would you feel? Now imagine meeting these powerful beings. Let me tell you a story not about dragons and knights but about La Reina de San Antonio's Tricentennial celebration of La Reina Linda.
Señora Angela Garcia was born and raised in the Rio Grande Valley, Weslaco, TX. I had the privilege to meet the loving and welcoming Spanish teacher in the middle of the third-floor hall my freshman year of high school. She is known in the Central Catholic community as the Language Department chair and Spanish teacher for multiple levels ranging from Spanish 1 to Spanish 4 AP. She is the heart of the biggest club at Central Catholic High School and continues to give back to the community through the Central Catholic Spanish Club. Because of this she was nominated to be La Reina of the San Antonio Fiesta 2018! 

Growing up Sra. Angela Garcia had always loved the culture of the San Antonio Fiesta. Fiesta is a "10-day extravaganza" says the World Dictionary. It has been a part of the San Antonio culture since 1901. It begins the Friday before or on April 21st, San Jacinto Day. Fiesta brings in the mixture of music, food, and socials with the rich Tex-Mex culture that empowers San Antonio. Sra. Garcia liked the atmosphere of community within the San Antonio community. In July of 2017 Sra. Angela Garcia was given a task to raise up to $50,000 for scholarships of "deserving students in her beloved San Antonio." Sra. Garcia and her team had about 85 days to raise $50,000, as Sra. commented saying what we were all thinking "that's a heck of a lot of work!" She and her team were able to raise not only $50,000 but get all the way up to $72,500 in donations, all in support of thousands of kids around San Antonio for scholarships to higher education. 

Sra. Angela Garcia is an inspiration to anyone who feels as though they can make a difference in their community. From the most impactful person in the classroom to the most impactful person in the community, it is an honor to have not only met Sra. Garcia but to have established a friendship with her. She provided a light for many kids in hopes of getting higher education for many deserving families spread across the San Antonio spectrum. Even today she visits schools encouraging young students to "Believe and Succeed." This shows her dedication to the community and how impactful of a person she is. Sra. Garcia adds that the most impactful part of this was "being able to do anything you set your mind to" and the overflowing support from not only her friends and family around her, but the support of the Central Catholic community that is deeply rooted into this San Antonio culture. This nomination was an honor to her, and I could not think of someone more deserving of this opportunity. This is a prime example of giving back to this San Antonio culture and empowering younger generations to aspire to excel in higher education, all thanks to the love and kindness shown by La Reina de Fiesta San Antonio 2018!
---
Luis Jaén is a first-year student at St. Mary's University majoring in International and Global studies. He was born in Buffalo, New York and moved to San Antonio, Texas when he was only nine months old. He has an array of siblings, five brothers and one sister, all ranging from ages thirty-five to fifteen. Luis has learned to appreciate the viewpoints of others through multiple mentors and experiences with different types of people that he has come across. During his time at Central Catholic High School he encountered a person who would change his outlook on his everyday life for the better. Luis has learned to love the perspectives and outlooks of other cultures due to his high school Spanish teacher Señora Angela Garcia, also known as La Reina Linda. Señora Garcia has had a monumental change on Luis' life by introducing him to new opportunities to learn and providing him guidance through his high school journey. With help of his mentor, Luis has been able to fall in love with realizing different approaches of life through studies of various lifestyles.
Posted September 18, 2019
TAGGED WITH: St. Mary's University, stmarytx.edu

Read stories from people across Texas
Browse All Stories