From Surviving to Thriving: Burn Survivors Thrive Thanks to Those Who Care
The Texas Story Project.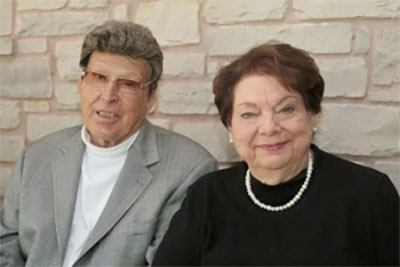 David and Jane Jaynes, co-founders of Texas Burn Survivor Society
"They brought him back when he was first injured, and they brought the family up to San Antonio for him to be treated at BAMC. He was in and out three and a half years – multiple surgeries – they rebuilt his ears, his eyelids, some of his digits. The family just stayed up here and took up residence and found a church home." Sue Dodson, Executive Director at Texas Burn Survivor Society (TBSS), recounts the story of David Jayne, a military hero who was burned in an Army helicopter accident in 1959.
After settling in San Antonio, while David was still a patient, he and his wife Jane began assisting others at the burn unit. This led to the couple founding TBSS in 1962 to provide burn to survivors the financial, emotional, and peer support they needed, which ultimately became their lifework. TBSS has created various programs to help patients and survivors achieve the Society's ultimate goal, which is for the survivors to go "from surviving to thriving."
David Jayne was treated at the Brooke Army Medical Center after his life-threatening helicopter accident – BAMC was a very important part of Texas history for the military members who were wounded in wars. After his treatment and recovery, David returned to the army to continue serving as a pilot – despite having amputations of the tips of all fingers and thumbs and other physical impairments – which is a testament to his recovery and the advancement of technology in the medical field. Jayne retired in 1980, and then went to St. Mary's Law School since he was still young. After law school, he was hired at a law firm, which is where his and Sue Dodson's lives crossed paths. When speaking of David's work practicing law, Sue says, "He was very instrumental in a lot of the cases during the '80s that resulted in the guidelines for flame retardant materials for children's pajamas and tents, so he did several of those cases," demonstrating the impact of Jayne beyond the San Antonio and Texas area.
When Sue retired from practicing law, she intended on relaxing for a bit after an intense seventeen years of practice, but after three weeks she received a call from Jayne. She was figuring out what her next step was when David asked her if she would work for the organization – they had had a few execute directors and were looking for somebody. She recalls, "He said, 'Just come work for us for six months while we look for somebody permanent.' I thought, 'Okay, I love David and Jane, and anybody would do just about anything for them,' so that was at the end of 2007. So it became a little bit more than six months, but I fell in love with the work at the organization and the goals and the people that we work with are just so inspirational and wonderful." Sue Dodson has taken over the role of Executive Director at TBSS since what she calls "the height of the war in Iraq and Afghanistan," which meant there was a large need for the Society to aid wounded warriors, one of the many focuses of TBSS.
The Texas Burn Survivor Society has a major emphasis on wounded warriors, due in large part to the resonance with David Jayne's own story. However, Sue states, "Even had he not been a military hero, because the burn unit was there and they volunteered so much at the burn unit there would have been that association with the military because that's where the wounded warriors who were burned were brought from all over the world." TBSS started the Mosaic Table Project, a project aimed to help wounded warriors who are unable to return to their hometowns because they must stay in San Antonio for their recovery. "The process of creating the design of the table, working with loved ones to set the mosaic tiles, and realizing a finished product provides a great sense of purpose and accomplishment." Those who live in San Antonio take advantage of the program; "last year the Mosaic Table Project had 200 wounded warriors and their caregivers participate in the program," claims Dodson. Another program for wounded warriors was an annual weekend retreat that was "just a totally free weekend for family fun." Sue says, "We were able to do that for nine years and we averaged between 70 to 85 family members every year for that." The families that went on this retreat enjoyed a weekend full of activities and fun, with family-style meals and most importantly, the time to reconnect. "Those were absolutely some of the best days. A lot of those families that still live here in San Antonio continue to work with the organization; they volunteer at our events. I keep in touch with them. Sometimes some of the spouses will get together for dinner one night to catch up," recounts Sue. TBSS was also able to help soldiers by purchasing washers and dryers for them as they moved into on-base housing in order for them to wash their skin garments according to protocol, as well as purchasing furniture for those with specialized needs due to their injuries.
Texas Burn Survivors Society's outreach was not only to the wounded warriors, but to their families as well. Several children of wounded warriors were invited to the Society's annual pediatric burn camp, Camp David. This is part of the organization's philosophy – the entire family are burn survivors. Dodson affirms, "There may only be one or two family members who have the physical injury, but the burn affects everybody in the family. Our mission is to minister to the entire family – the burn survivor first – but understanding that the family and family support system and working with the is so important to everybody's recovery." Attending camp allows for these children, from seven to sixteen years old, to involve themselves in a community with peers who have suffered similar traumatic injuries, and in doing so, some have been able to gain some perspective. Sue recounts, "Absolutely one of my favorite stories – two of the kids of one of the wounded warriors were overheard telling their dad after they came back from camp, 'Daddy we thought you were bad, but some of those kids, they were hurt a lot worse than you and they're doing great!' It really put things into perspective for them and helped them help their daddy to say, 'These kids were burned badly too and they're having a great life so daddy you will, too.'"
As Sue Dodson and TBSS prepare for Camp David's 25th anniversary next year, about which she states, "we're working to make it a very special year next year," she details the experience camp staff and volunteers want to provide for the children. "Before I came, the camp was staffed almost entirely by TBSS volunteers. They ran all the programs. They did all the arts and crafts projects. They ran the fishing tournament. They did everything." Then, in 2007, a year before Sue's arrival, Camp David started going to the Texas Lions Camp in Kerrville, Texas, and discovered that "the counselors at the Lions camp were uniquely attuned and trained to work with kids who had different challenges, because the Lions camp specializes in kids that have challenges and still want to have the full camp experience." Texas Lions Camp works with children who "are hearing impaired, who have diabetes, who have neurological differences. They run a down syndrome camp concurrently with ours because both of those are small camps. They really are particularly attuned to kids who need maybe a little adaptive help to get up the rock wall or a little bit more encouragement for things that could be a little frightening or challenging."
Wanting to experiment what environment this would create for the camp, TBSS let these counselors run all the programs and activities, concurrently allowing TBSS volunteers to "[be] true volunteers and just being able to be there as adult mentors for the kids and encouragers and freeing our volunteers up to enjoy camp as well and not be stressed with, 'Oh are we going to have enough birdhouses for arts and crafts,' and that sort of thing." The result of that experiment was, as Sue puts it, "everybody was really pleased with the level of care that our kids got and as I said it freed the volunteers up to just enjoy being with the kids and really getting to know them." The personal level of attention has not been lost between the children and volunteers; the volunteers interact with them because they do all the activities with them.
Texas Lions Camp has a staff of about 100 people, of which Sue believes, "at least 50 to 60 of them have a direct impact on our kids, whether it's activity directors or bunk house counselors, child life specialists, all the dining hall staff, of course all their administration." Texas Burn Survivor Society typically has ten to fifteen volunteers, and firefighters and nurses are welcomed as guest volunteers throughout the week of camp. "This year," Dodson relates, "we had a group of pediatric trauma nurses from University Hospital who came up for a day and did all the activities with the kids, and of course they know a lot of the kids because the kids have been treated at University Hospital. We had different Kerrville firefighters who came every day. Two or three of them, different ones, came every day. We [have] San Antonio firefighters who also come and stay for the whole week." However, the involvement of firefighters and nurses with the organization goes beyond volunteering at camp. Interestingly, Austin firefighters, who also volunteered at Camp David, started their own organization, the Hill Country Firefighter Burn Fund, whose goal is to raise funds to help continue Camp David and also, as Sue tells, "help finance our teen and young adult retreat Camp Ax." Camp Ax is a "more mature" camp for teen and young adult survivors, ages 17 to 23, that is held for a weekend in Austin.
Dodson explains that Camp Ax started because, "we found that there was a vacuum of services for kids who had aged out of our camp, Camp David, because they age out at 16. There are national conferences, and we co-host one here locally in Texas for adult survivors, but there really wasn't anything for that older teenager, young adult – there really wasn't anything that was directed specifically to them." This is when she and the Austin firefighters cooperated to come up with a teen retreat and began organizing the activities and fundraising for Camp Ax. Sue lightheartedly says, "They say I twisted their arm; I say they said, "what else can we do?" As she laughs, she admits, "It was a mashup of those two." Their cooperation has been successful – Camp Ax will celebrate its fifth year this year.
The young adult camp, which is intended for about 20 participants, is a bit smaller than Camp David. "That's by invitation and only to survivors; that's not for siblings or children of survivors," clarifies Sue. The camp, held in Austin for a Friday through Sunday weekend in November, features a wide variety of team building activities that gives their young adults, who are spread all over the state, an opportunity to reunite. Sue lists some of these activities, "We go rock wall climbing, go karts. We were going to zipline last year, but the weather got bad. We have gone to the graffiti wall in Austin, which unfortunately no longer exists, but we got there. We've done the escape room, cooking classes, and central market, yoga classes that are adaptive for burn survivors." Camp Ax also attempts to help its young members by offering something that is geared a little bit more towards adult life, such as finance classes and cooking classes. Sue adds, "Then we usually, since we're in Austin, we try to do something historical. So, we've gone to the Bob Bullock Museum. We've gotten special tours at the capitol."
However, Camp Ax is not the only way for these young adults to stay connected; some of the kids who have aged out of Camp David returned as volunteers. "This past camp, we had 4 who that ranged from 19 to 28 that are all products of our Camp David that came back as adults to volunteer for the week at camp," states Sue, hailing them as some of the best volunteers at camp. "The kids love the firefighters as volunteers but there's nothing like seeing someone as an adult who looks like them that can say, 'I remember when I first came and I was scared to do the zipline, but it was awesome and you've got to try it.'" These young adults volunteer at events and participate in fundraising projects – just because these kids have aged out of the program at Camp David does not mean the connection is lost with the organization – and some even attend Texas Burn Community Connect, a conference held by TBSS.
Texas Burn Community Connect was a project that began in the past year for the organization. Approached by a woman in Houston who runs a similar organization with slightly different programs, Sue Dodson got involved with this program as she and this woman became good friends. She says, "She said that she really had in her heart-- and had had people ask her about--starting a burn survivor conference here in Texas," as people wanted something more local and intimate, where they could really get to know people. The Phoenix Society has an international burn conference every year called the World Burn Congress, but it is very big and always away – "they've had it in Las Vegas and New York, in Raleigh, in Oakland, in Chicago, and Galveston" – so people would be unable to attend due to expenses and the inability to be gone from work and home for several days. Dodson was asked, "'Would y'all [TBSS] be interested in co-hosting something like that?'" by this woman. This past June, Texas Burn Survivor Society co-hosted the first annual Texas Burn Community Connect, geared towards Texas Survivors – and it was a success!
"We had 40 participants, which we thought was very good for our first year. It was very successful – everybody had a wonderful time," affirms Sue. The plan, after the successful implementation of the prototype, is to rotate the one-day conference around different cities in Texas; the first year was in Houston, but next year it will be held in San Antonio. One of the potential future cities is Dallas, and then any cities that are interested in hosting going forward will be included. The conference had nine different sessions; there were three sessions and three different workshops people could go to in each session. These sessions dealt with topics like PTSD, caregivers, adult survivors who were burned as children, health and nutrition for burn survivors, and other topics, with speakers from all over the state of Texas. Bobby Henline, a wounded warrior who was severely burned and an increasingly well-known survivor, was the keynote speaker and Dodson says, "We were fortunate to have him stay for the entire day and he interacted with all the different participants. There was a great connection because his children were some of the children who came to our pediatric burn camp for several years." Henline also knew David and Jane, the co-founders of the organization, and is praised by Dodson for having done a fabulous job in his speech and time at Texas Burn Community Connect. Sue looks forward to next year with anticipation, and hints at "a very special keynote speaker who's nationally known – internationally known, really – but it's a surprise. We're not revealing that quite yet." Next year, Texas Burn Community Connect will be held on June 13th in San Antonio.
Additionally, TBSS has a scholarship program for survivors that is for those that have a specific vocation in mind, which is in its tenth year. Some of the scholarship recipients have become pediatric nurses, occupational therapists, schoolteachers, have gone into finance, and one became a business administrator at a large company in Houston. Dodson shares, "We have one young man who got a degree in ranch management; he lost two of his digits in a firecracker accident and one of the concerns – he wanted to be a forest ranger, but in order to do that, he had to be able to shoot every kind of gun. There was a concern, because he had lost his index finger, that he maybe was not going to be able to shoot smaller, non-automatic weapons. He trained and worked and was able to do that but instead of going into forestry, he got a job at a big ranch and ended up being a big ranch manager, which still works. We're very proud of him." TBSS has helped survivors like this overcome their obstacles to go to school.
The Texas Burn Survivor Society works with the San Antonio Military Medical Center for a support group with the burn unit that meets on-base once a month. This support group also meets once a month for a social activity, typically off-base. One of the future activities entails a special jiu-jitsu class that will be "geared towards survivors and adapting their training, especially for kids but not just for kids, for adults as well."
Another service TBSS provides is emergency assistance, which is financial support for survivors who need help with transportation to and from the hospital. Sue explains how sometimes survivors don't have the money to get back to their home or a relative's home where someone can take care of them, but the hospital cannot release them unless they can verify a place they can go to. Dodson details, "A lot of the burn patients in San Antonio – I don't have statistic on it – there are a number of homeless people, indigent people, that have burn injuries, in large part because of the nature of their living conditions or lack thereof." They cannot be released by the hospital back to living on the street, unless, as Dodson states, "Their sister in Corpus, for example, can say, "Yea they can come down here and live with me and I'll make sure they're taken care of." It's $75 for a bus ticket to get to Corpus. With our emergency assistance, we're able to get them to the bus terminal, give them money for food, and get them a bus ticket so that they can go to some place where they can live for a while." While not on a grand scale, this emergency assistance is a niche that is crucial to helping survivors avoid the thousands of dollars in costs of having to stay in the hospital despite being able to be released. It is a very integral part of the release process despite being a small thing. Sue gives another example, "Sometimes they may have family, but they may live in the Valley, or they may live in Corpus, or live in Eagle Pass, and they just need gas money to come back to the base for therapy. So, $50 here, $100 there, helps make sure that they get back for rehab and for therapy."
Their financial assistance extends beyond this, and like the way TBSS would purchase washers and dryers for wounded warriors to clean their garments, TBSS now purchases scar garments for people without insurance or whose insurance does not cover this expense. These garments are custom-made and expensive, so some people cannot afford it. Therefore, "We have an arrangement with a company that makes scar garments, and they give them to us at a reduced wholesale price, so we're able to purchase a set of two garments for people who can't afford them," Dodson explains. While some of these costs may not seem like much, these are essential purchases that facilitate the lives of burn survivors.
Interestingly, there are only two people who work at the Texas Burn Society full-time. "That means that," Sue explains, "while we could always use a larger staff, funding can go to our programs and spending on our survivors." She recalls, "We had a full-time person for a period." This person would work with the organization's community outreach education program, the Leaders in Fire Education program, or L.I.F.E. "We had a grant for that specifically, so we had a person whose only job was to work with that." This program would work with the San Antonio Fire Department and elementary schools to provide fire safety and burn prevention education.
Unfortunately, the funding for this program ran out, and the Society has been unable to get another grant yet, meaning L.I.F.E. has become inactive. However, TBSS still does health and safety fairs and works with fire departments, and could potentially have a new program, but Sue clarifies, "I just don't have funding for it yet so I can't say it's an actual program yet." The Society feels very strongly about burn prevention education, since burns are among the top mechanism of injury in every age category in children in San Antonio from ages one to sixteen; in some cases, it is the number one cause, but it is at least in the top five in every case. "If we could help prevent burn injuries, that would be our ultimate goal," declares Sue. While not realistic to prevent every burn injury, it is another goal of the organization – helping prevent burn injuries and having fire securities. "We would love to be able to do much more for the burn community, and if we had funding we would do even more."
TBSS has helped build a thriving community through their programs and services, and they do their best to stay in touch with families on a continuing basis. "That's one of the things that Facebook has been very good about," remarks Sue, "because that's an easy connection and you can see what's going on in their lives and keep touch that way as well and it's an easy way to get in touch with the families." While not having done the statistics for it, Sue believes that at least 50% of the families that TBSS has worked with through wounded warrior programs and the burn camp are still in contact on an ongoing basis. She claims, "I'd love for it to be 100% but people move on. Things happen, but we do pride ourselves in that ongoing personal connection as well."
This organization helps with such a large range of ages, fulfilling their goal of reaching out to families with babies who have been burned through older adults dealing with burns. Dodson states, "One of the things we find is that so many survivors start out in isolation; they don't want to be seen, they don't want to be stared at, they don't want to answer questions. For some of them, it's physically painful as well." Much of the organization's work is geared toward removing the isolation factor and giving survivors opportunities to be out in a community with fellow survivors who understand what they're going through and can help with coping mechanisms, as well as helping them find a sense of self. "Our ultimate goal is to help survivors thrive," professes Sue. "That's kind of our little tag line – from surviving to thriving." Through the work of the Texas Burn Survivor Society, David and Jane Jayne, who passed away in 2015, were able to reach many lives and assist many burn survivors in the San Antonio area. Their impact has been felt in their community and certainly at the Brooke Army Medical Center, now known as the San Antonio Military Medical Center, where the TBSS continues to work with the Burn Unit. Their work continues influencing and assisting the lives of veterans and burn survivors of many ages. David Jayne arrived in San Antonio with serious burn injuries, and through his treatment at BAMC, he was able to survive, but only through his work and building a community was he able to thrive and help others achieve the same.
---
Emmanuel Serrano Alcaraz is a sophomore Mechanical Engineering major at St. Mary's University and a burn survivor. He was born in Hermosillo, Sonora, Mexico, but moved to Phoenix, Arizona in 2005 for better medical treatment. Emmanuel has spent ten years involved with the Arizona Burn Foundation in Phoenix and worked with them over the summer on the Milo & Moxie project, a burn prevention and fire safety program for children.
Posted September 17, 2019
Join 10 others and favorite this
TAGGED WITH: St. Mary's University, stmarytx.edu

Read stories from people across Texas
Browse All Stories