Blas L. Alvarado: From Cotton Fields to Purple Hearts
The Texas Story Project.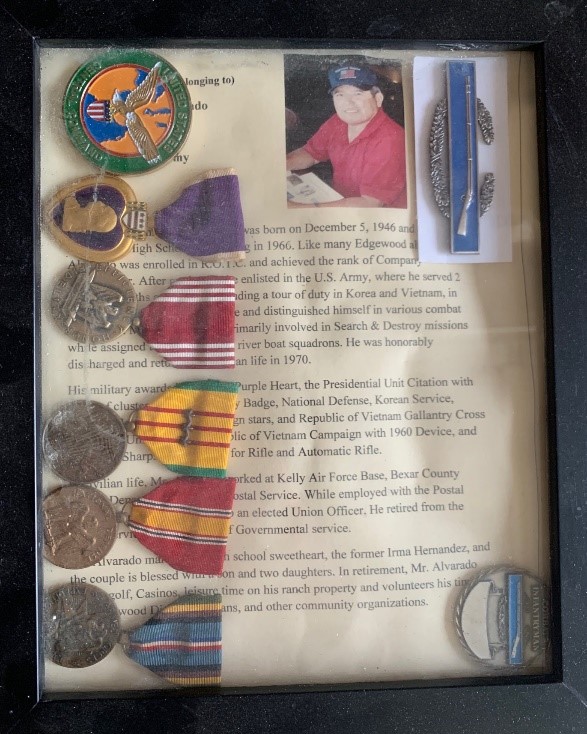 Blas L. Alvarado is Texan, born and raised.
He is retired military, who served in the U.S. Army and earned a purple heart during the Vietnam war. Blas grew up in a large family of twelve who all shared a two-bedroom home. "Sleeping arrangements were crowded, to say the least." When Blas and his siblings started to attend school, the added cost of shoes, clothes etc. proved to be too much for the Alvarado family, whose only source of income was Blas' father. To make up for this financial deficit, Blas' entire family would travel to South Texas during the summer months and pick cotton. "Our mother would be up before dawn preparing meals for the days ahead, which were long and hot."
Blas would go on to attend Edgewood High School, where he excelled in many sports. He made the varsity football team, but could not play beyond the tenth grade. His family needed him to work for financial reasons. Blas would also join the National Defense Cadet Corps (NDCC), which is similar to the Junior Reserve Officers' Training Corps (JROTC). He was the company commander for one year and was recognized for the best company of the school year. After high school, Blas enrolled in San Antonio College (SAC). He was hired to work at Kelly Air Force Base as an air freight worker, getting paid $2.02 an hour, two cents more than his father was making. Here, Blas was inspired by one of his coworkers, who was a former Marine, to join the army.
Blas' recruiter had told him he would be in the business administration field, but in basic training he was told he would be in the infantry. In 1968 Blas was sent to Vietnam. He had a good eye and was promoted to point man because he could detect booby traps. Blas was also really good at reading maps and a compass. He had a great sense of direction. He was later assigned to the Bien Hoa 9th infantry River Rats Patrol Boat. And on April 5th, 1968, on Blas' last patrol, his boat got hit by mortar and rocket fire. "All I could remember is seeing my mother, father, brothers, sisters, and my girlfriend Irma. I recall saying that I was sorry and that I loved them; I couldn't say goodbye."
Blas was suddenly woken up when a snake bit him. He pulled himself up and found his Sargeant, who told him helicopters were on their way, and that Blas would be one of the first ones to be airlifted out. He was bleeding profusely from his back. Blas remembers the medics giving him a shot of morphine, and a Salem cigarette, a brand he smoked for many years after that day. Blas arrived at Saigon, now known as Ho Chi Minh City. He recalls the wounded he encountered, "I saw men without hands and legs, heads all sewed up like Frankenstein. Boy, my wounds were nothing compared to theirs." Blas had a total of 28 holes in his body and had been hit in his left leg, left and right shoulders, but most of the damage had been done to his lower back. The only reason he had survived was because of his shrapnel jacket.
Blas returned home and was awarded the Purple Heart medal. He married his girlfriend Irma and they had 3 children, Chris, Debbie, and Bonny. Blas went back to SAC to finish his degree. He was hired as a distribution and window clerk for the U.S. Postal Service. Blas enjoyed his time working for USPS, as he got to many people of different ethnicities and hear their own Texas stories. He is now retired and likes to vacation every year to Las Vegas.
---
Felix Jaime is an undergraduate at St. Mary's University majoring in Biochemistry. Originally from Monterrey, Mexico, he moved to San Antonio 8 years ago in search of a better education and hopes to one day become a dentist.
Posted April 11, 2019
Join 8 others and favorite this
TAGGED WITH: St. Mary's University, stmarytx.edu

Read stories from people across Texas
Browse All Stories