Taking Bandera, Texas to Alberta, Canada
The Texas Story Project.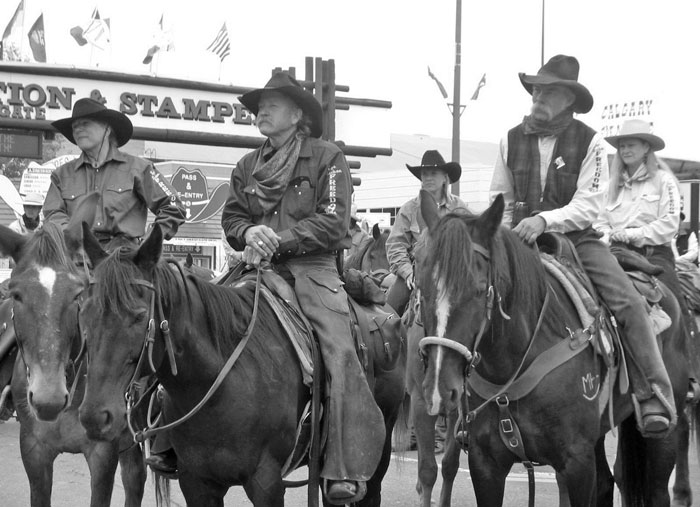 Photo by Robert Getty of (L-R) Mary Allyce Schenk, James E. "Hoot" Gibson, Mark Andrews riding into Stampede Park for the ceremony with the mayor of Calgary.
On January 20, 2004, Trail Boss James E. "Hoot" Gibson, Mary (Allyce) Schenk, and Mark Andrews, calling ourselves "The Eye Reckon Freedom Ride," left home base in Bandera, Texas, on a horseback trek to Calgary, Alberta, Canada. On July 8, 2004, five months and 19 days later, we rode into Calgary Stampede Headquarters, an international media spotlight, and into the arms of all of Canada.
It was the adventure of a lifetime, a logistical nightmare, and a galloping soap opera that was dubbed "Days of Our Ride" by one insider. It was so wet, cold, and muddy that we laid claim to relieving the seven-year drought then plaguing the western U.S. It was just two men and one woman who made a pact, made a plan, and made a journey to take the "Cowboy Capital of The World" (Bandera) to "The Greatest Outdoor Show on Earth" (the Calgary Stampede). We shared the road with six horses and two mules with a penchant for escapes, a few dogs, and a dozen or so other people, some of whom rode a few miles with us, some of whom gave us moral support at home, and some of whom frankly disbelieved. We took Bandera to Calgary, and I believe we did Texas and the image of the American Cowboy proud.
The ride led us through the heart of Texas, across a corner of New Mexico, skirted the eastern edge of the Colorado Rocky Mountains, over the windy flats of Wyoming, into the spectacular and well named Bear Tooth Mountains of Montana, and finally across the border and up the "Cowboy Trail" of Alberta (Highway 22) into Calgary. There we were made honorary Calgarians by the Mayor of Calgary and interviewed by worldwide media from Canada to Taiwan and back. We rode for months in near anonymity, arrived at the height of celebrity, and made a bit of a crash landing back to reality. As a horsewoman, I am proudest that every animal we started out with came back home and in better shape than when we left. It was an historic achievement by Trail Boss James E. "Hoot" Gibson, and we can forever rightfully own the name of "The Eye Reckon Freedom Ride Trail."
Mary (Allyce) Schenk is a resident of Bandera and the author of Riders on the Storm: The True Story of The Eye Reckon Freedom Ride.
Posted November 07, 2014
Join 29 others and favorite this
TAGGED WITH: Icons and Symbols, It Ain't Braggin' If It's True, Popular Culture - 21st Century, Preserving History, Ranching, Rodeo, The Old West

Read stories from people across Texas
Browse All Stories