A Wedding on Horseback
The Texas Story Project.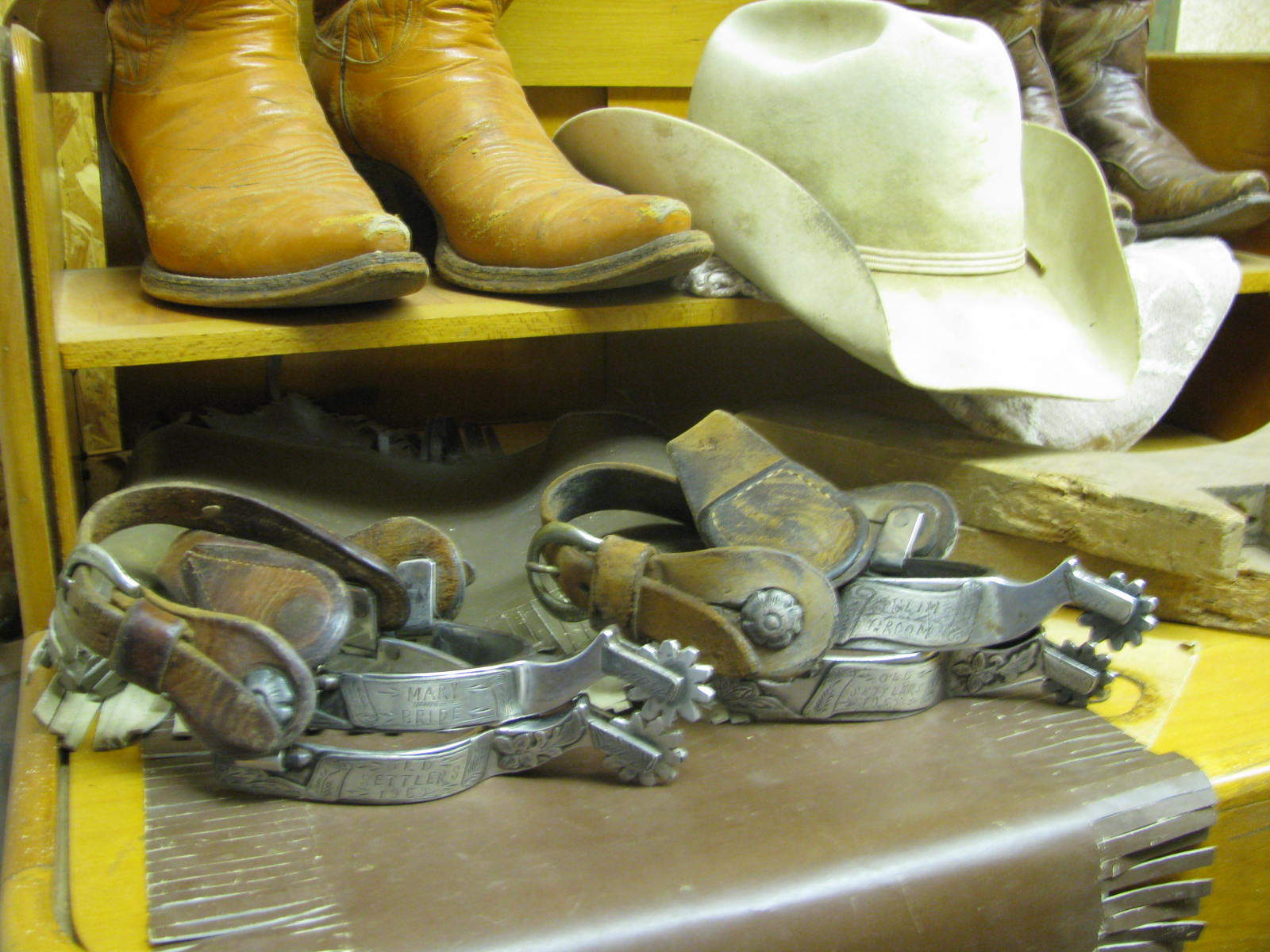 Slim Durham's spurs
When I first met Slim Durham, he told me about his experiences working for the Matador Land & Cattle Company so I could write up a story for the Old Settlers edition of the Motley County Tribune. Slim and I went on to record over 13 cassette tapes about his recollections, a precursor of Slim telling some of the same stories to Andy Wilkinson of the Southwest Collection at Texas Tech University, and Red Stegall for his radio and television shows. Stegall said, "I never get tired of hearing these old stories."
One day Slim showed up early for Old Settlers with a pickup load of things he wanted to donate to the museum— collections of horseshoes, barbed wire, stirrups, saddles, and a pair of spurs. "What's the story behind these matching spurs?" I asked.

"Well," Slim drawled, "These here spurs were made by old Adolph Bayers, especially for our wedding on horseback. See, this pair has Mary and Bride inscribed and the other has Slim and Groom, while both have Old Settlers. You see, the bride wore boots and so did the groom."

The handmade spurs were hammered from one piece, with the exception of the rowels. Bayers kept a notebook of sketches on each design, including information about who bought it, where they lived, and how much the spurs cost. Sketches of Durham's spurs were included in the book The Legend of Adolph Bayers about his work and items that have become collectibles.

"Slim, when did this all take place?" I asked. The old cowboy pushed back his hat back and leaned forward in the old wooden chair and said, "On Friday, September 4, 1952, Mary Edna Norman married me (G. B. "Slim" Durham of Matador, Texas) during an intermission at the rodeo which was part of the 29th annual reunion of the Old Settlers at Roaring Springs, Texas. Mounted on horseback was Preacher Brotherton and all of the wedding party, the Matador Quadrille, an equestrian group of riders that performed in rodeos throughout the area. Our horses were ridden in pairs and performed movements in synchronized perfection, sorta like traditional square dancing." Sheriff John Stotts was Slim's best man, and Dorothy Traweek was Mary's Maid of honor. They were married by the Rev. Marvin Brotherton.

"The rodeo sold tickets to my wedding," Slim recalls. "I tell you, it took nerve to go into that packed arena," he said. "These spurs were there."

Marisue Potts, a grassroots historian, is chairman of the Motley County Historical Commission, founding board member and secretary of the Motley County Museum, and president of the West Texas Historical Association, 2013.
Posted August 07, 2014

Read stories from people across Texas
Browse All Stories