A Tale of Rags to Riches
The Texas Story Project.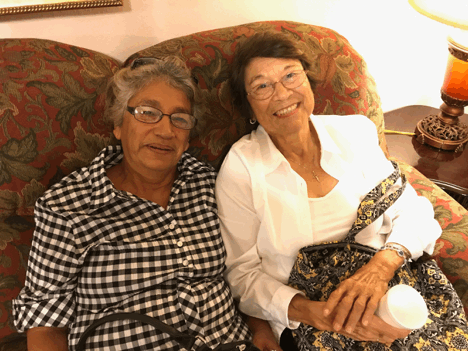 My grandmother, Antonia Preciado, was born in Nuevo Laredo, Mexico and was only six-years old when her family had to move to Aransas Pass, Texas. Growing up as the oldest of twelve siblings did not make for an easy life, especially while having to move from one country to another.
Although she was very young, she was capable of understanding the struggles her parents went through in order to provide a comfortable life for her and her siblings, but it was through these struggles that she was able to make a life for herself and provide the best for her future family as well.
There were many challenges that Antonia and her family had to overcome. After moving to Texas, her father found a job digging ditches where he made 50 cents an hour. Meanwhile, his American co-workers made a dollar an hour. Antonia recalls this detail vividly, because her father openly expressed his frustration with the unfair treatment. In grade school, Antonia remembers being unable to understand the teacher and most of her peers who spoke only English. While she was able to read in English, she struggled to understand what she read, so, she and her father would work together to learn the language. Antonia's teachers would call her "Antonio" which was very offensive to her as a child because, as she claims, "Antonio is a boy's name."
Neither Antonia nor her husband received as much as a high school education. Her father pulled her out of school at the age of 16 to help her mother, and Antonia's husband, Gilbert, dropped out of school in the sixth grade so he could help with his father's contracting business.
Fortunately, it didn't take long for Antonia to adjust to her new life in Texas. At the age of nineteen, she met her husband, Gilbert, in Washington where they married. From Washington they moved to Laredo, Texas where Gilbert's contracting business eventually took off. Gilbert's business was so successful, that one of his employers offered him a free lot of land in exchange for his labor. Antonia and Gilbert decided to build a self-service carwash in 1973, which was rare in Laredo. It became very successful. After seeing what a success that first carwash was, they opened two more five years later.
The Preciados opened their third and final carwash in 1982. This was the first automatic carwash in Laredo and it only continued to grow and prosper. This carwash also had many side services such as an arcade, car vacuums, and inspection services. Antonia also provided their customers a variety of snacks. My grandfather named this carwash "Grand Pre-Carwash and Lube Center".
Unfortunately, the carwash had met the end of its reign and they had to file for bankruptcy. What was not so unfortunate, however, was that they were able to sell the carwash for over $300,000. With the money, Antonia and Gilbert opened the Laredo Café in 2000. Gilbert had bought an old "hole-in-the-wall" Mexican restaurant and renovated it, making it twice its original size. This café was also a huge success for the Preciado family and was their last family-owned business before they moved to San Antonio, Texas.
My grandmother is incredibly proud to share her Texas story. Sharing her story gives her the opportunity to sit down and truly analyze every trial she had gone through in her lifetime and can now see how far it has gotten her and our family. Now that she has officially resided in San Antonio, Antonia has no regrets of moving to Texas from Mexico and sees her life challenges as blessings in disguise. She could not imagine moving anywhere else. Texas is so close to home and is where her family and life has flourished.
---
Elizabeth Guardiola is a sophomore at St. Mary's University and is currently a major in Sociology. Elizabeth was born and raised in San Antonio, Texas. She is proud to share her family's Mexican-American cultural background.
Posted April 25, 2019
TAGGED WITH: St. Mary's University, stmarytx.edu

Read stories from people across Texas
Browse All Stories