100 Years Ago at the Cuero Turkey Trot
The Texas Story Project.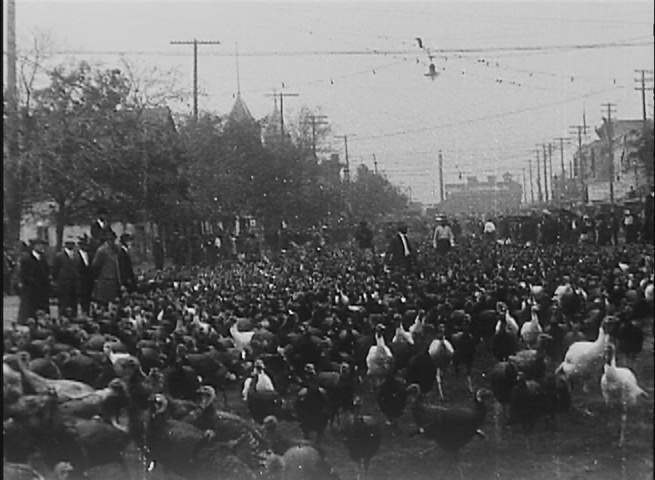 100 Years Ago at the Cuero Turkey Trot
Back in 2012, I received an exciting phone call from the Texas Archive of the Moving Image. They had just received some old footage of what they thought was a Cuero Turkey Trot parade. They knew the black and white footage of hundreds of turkeys being paraded down a street would interest me. I had worked with them a few years earlier to digitize 1940s footage of the festival. Entering the office, I was expecting to see footage from the 1920s, but I instantly recognized that this film was much older. After some research, it was revealed that this was one of my Holy Grails— footage of the first Cuero Turkey Trot from 1912!
This film provides a direct window to the past of a town that worships all things "turkey." It captures thousands of turkeys trotting down dirt streets, as well as a wagon advertising a neighboring town and a car containing Texas governor Oscar Colquitt and his staff. The still photographs of the first festival that I had studied for years had suddenly come to life. They were ghosts speaking from the past, allowing so much more inspection and observation than a photo alone provides.
Although the Turkey Trot no longer exists, Cuero still celebrates the turkey every year during the annual Turkeyfest. Turkeys are no longer herded through the streets, but the festival does feature a race between a turkey from Cuero and one from Worthington, Minnesota, Cuero's competitor for Turkey Capital of the World. In conjunction with the 2012 Turkeyfest, we were able to celebrate the 100 year anniversary of the first Turkey Trot by projecting the footage on downtown buildings. It was perfect timing for discovering this rare and special film.
Erik McCowan is a Cuero Turkeyfest Association volunteer and the director of "Ruby's Town," a documentary about the festival.
Posted July 22, 2014

Read stories from people across Texas
Browse All Stories