Abalone Pendant from West Texas
Early jewelry depicts the glowing beauty of nature
Print Page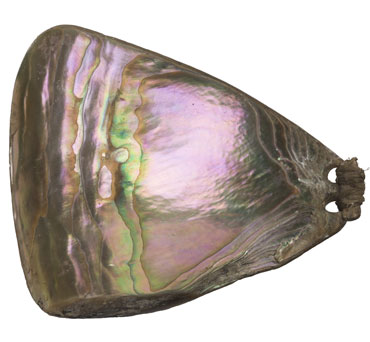 Early jewelry depicts luminescent beauty in nature
Prehistoric humans used a variety of surrounding resources to clothe themselves, but they also made jewelry out of objects found in the open. This pendant is made of abalone, an edible sea snail that varies in sizes from medium to large and is native to the west coast of North America. The interior surface of the shell is bright and iridescent, and the colors change when the shell is viewed from different angles. Holes have been made in the top of the shell so that it could be worn as a pendant. How did a West Coast shell find its way to Texas? It was most likely acquired from middlemen in New Mexico or Arizona as a trade item.
Lender
Texas Archaeological Research Laboratory, University of Texas at Austin
About
Clothing and Accessories
2000 BCE–1500 CE
Display Status
This artifact is not on view.
Abalone Pendant from West Texas
Artifact from El Paso County

Read stories from people across Texas
Browse All Stories