Texas Social Justice Series: Access to Fair Housing
Programs
March 10, 2015 7:00pm - 9:00pm
In the first of a four-part series on the fight for social justice in Texas, join us for a discussion of one of the most basic and necessary aspects of life: fair access to housing, including historical roots in the 1968 Fair Housing Act. Panelists will discuss the realities that have influenced housing policy in the past as well as housing issues that municipal governments still grapple with today, including public policy, discriminatory lending practices, and urban development.
Moderator
Eric Tang is an Assistant Professor in the African and African Diaspora Studies Department at the University of Texas at Austin, a Faculty Fellow for the Institute for Urban Policy Research & Analysis at UT Austin, and the director of UT's Social Justice Institute. He holds a Ph.D. in American Studies from New York University. Tang has published numerous essays on race and urban social movements. He is completing a book about refugees and the U.S. urban crisis entitled Unsettled. A former community organizer, Tang has been awarded both journalistic and scholarly prizes for his writings on post-Katrina New Orleans. His current research focuses on the past and present of racial segregation in Austin, Texas.
Panelists
Wesley Phelps is an Assistant Professor of History at Sam Houston State University. He holds a PhD in History from Rice University. Phelps writes about grassroots activism in Houston in the 1960s with a particular focus on urban politics and the War on Poverty. His book A People's War on Poverty: Urban Politics, Grassroots Activists, and the Struggle for Democracy in Houston, 1964-1976 was published in 2014 by the University of Georgia Press. His focus for our panel conversation will be on community organization, mobilization, and empowerment and how that has affected federal programs in Texas during the 1960s and beyond.
Tammye H. Treviño was sworn in as Regional Administrator for Region VI for the U.S. Department of Housing and Urban Development on Monday, August 12, 2013, in Washington, DC, by HUD Deputy Secretary Maurice Jones. She has more than 25 years of experience in managing housing and economic development programs for underserved populations. From 2009 until her appointment at HUD, Ms. Treviño was the Administrator for Housing and Community Facilities Programs in the U.S. Department of Agriculture's Rural Development agency. As Administrator, she managed national loan and grant programs for housing and community facilities to help rural communities and individuals, including grants for single family homes; apartments for low-income persons and the elderly; housing for farm laborers; childcare centers; hospitals, libraries and more. From 1999 to 2009, Ms. Treviño served as chief executive officer for FUTURO, an Uvalde, Texas, non-profit organization that provides housing, business, community development and technical assistance. Previous to that, she was the economic development director for LaSalle County, Texas, where her accomplishments included converting a 47-county, South Texas think tank into a non-profit organization to work on regional economic development and other issues.
This program is presented in partnership with the Social Justice Institute at the University of Texas at Austin and the Texas Civil Rights Project.
Presented in Partnership with
The Texas Social Justice Series is sponsored in part by funding from Humanities Texas.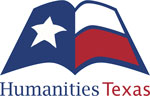 Teachers: To RSVP and receive CPE credit, email education@thestoryoftexas.com