H-E-B Free First Sunday: Deep in the Heart of STEM
Programs
February 3, 2019 12:00pm - 5:00pm
Dive into the heart of Texas with Girlstart. Explore the connections between history and science, technology, engineering, and math (STEM) through interactive demos and hands-on activities for kids of all ages.
Event Details
Enjoy FREE exhibition admission all day during Free First Sundays, held the first Sunday of every month. Families can explore the Story of Texas through three floors of exhibitions that showcase artifacts from around the state.
Join us from 12-3pm for these special activities:
Engineer a propeller-powered boat as you discover the ship that changed history, La Belle
Experiment with accuracy and consistency as you design a slingshot
Dig deep into our chocolate chip cookie mining activity.
Fly high with the new Texas from Above exhibit and create a soaring glider
Experience the motion of a Redbird flight simulator (8 years old and older)
Join us at Storytime for a STEM-filled story and activity.
Please note: The State of Texas is building a new fully pedestrianized green space between the Bullock Texas State History Museum and the Texas Capitol. The Museum and its parking garage remain open during construction. Surface parking lots and most parking meters will not be available for the duration of the construction project.
H-E-B Free First Sundays Presented by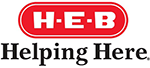 This project was made possible in part by the Institute of Museum and Library Services.
The Bullock Museum is owned and operated by the State of Texas through the State Preservation Board. Additional support of exhibitions and programs is provided by the Texas State History Museum Foundation.