The Venerable Mother Julia of Kingsville
The Texas Story Project.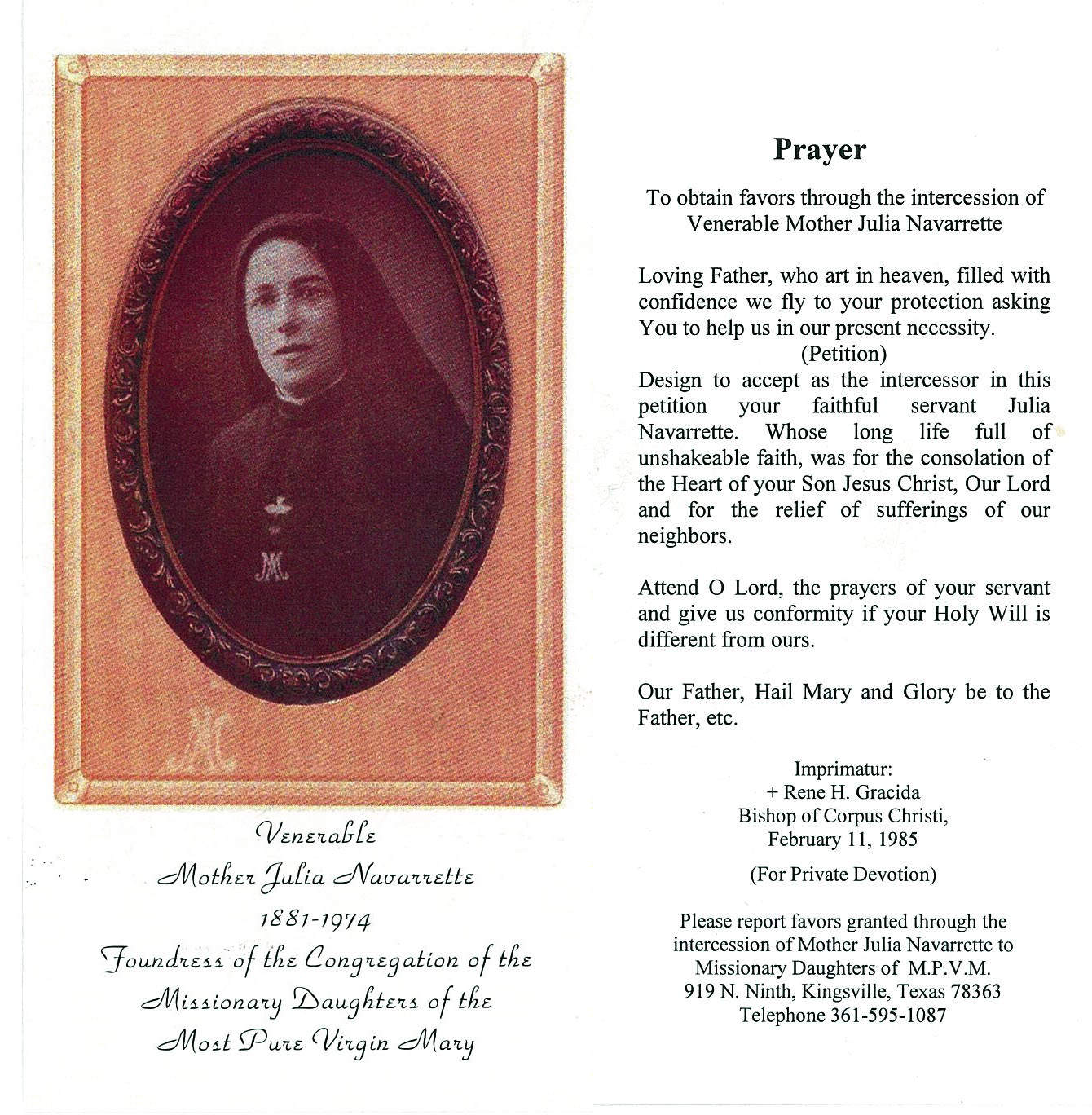 Mother Julia Prayer Card
As the Mexican Revolution ravaged the border, Mother Julia Navarette fled to the United States along with other nuns from the Order of the Missionary Daughters of the Most Pure Virgin Mary. While in Mexico, Navarette had established 45 convents. When the convents became unsafe and Naverette became unable to practice her religion, she moved the Order to Kingsville, a safe distance from the U.S./Mexico border.
Mother Julia was born in Oaxaca, Mexico, on June 30, 1881, and began her call to religious life at 19 years old. Upon arriving in Kingsville in 1916, Mother Julia quickly established a convent and a school. She purchased one of the first homes built by the late Captain Richard King, founder of the famous King Ranch, for use as their convent. The school was the first in Kingsville to provide education to Hispanic children.

In 2004, Pope John Paul II proclaimed Mother Julia "Venerable," one of the steps to sainthood, for miracles she performed in Mexico and in the U.S. This prayer card memorializes Mother Julia. The efforts to preserve her memory continue in the Kingsville community. Sister Maxi Cruz, who nursed Mother Julia before her death on November 21, 1974, is working with the community to preserve Mother Julia's memorabilia and to restore the small chapel and the one-room school building.

Maggie Salinas of Kingsville, Texas is a local historian and lifetime volunteer whose credo is, "Love your work and give from your heart."
Posted July 21, 2014

Read stories from people across Texas
Browse All Stories