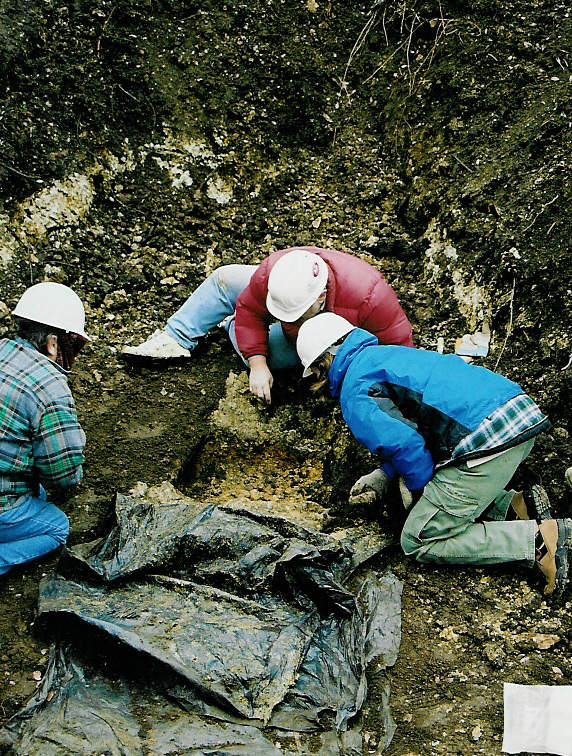 Excavation on Moore Road
Have you ever been cruising down roadways and noticed old graveyards near the road? Often, roads are adjusted to avoid these burial grounds, but sometime graves are moved for a new roadway or development project.
Twelve years ago, I was working as an historian with Texas Department of Transportation on the proposed route of State Highway (SH) 130 in southeastern Travis County. When doing research on one particular section of the proposed right of way, adjacent to Moore Road near Elroy, Texas, we observed a hillside covered with a wide bed of white iris plants. This particular variety of iris is not native to Texas and was likely brought in for landscaping around a homestead, church, or cemetery. This particular parcel of land was reported as a potential historic archeological site that required additional investigation​ to Texas Department of Transportation (TxDOT).
Several pieces of evidence suggested that this bed of iris could be a grave site. Although there were no headstones or visible markers, there was a piece of poultry-wire fencing and a wooden fence stake. It took many months of documentation to establish that a grave site was underneath these lovely iris plants. Extensive archival research and orders from the Travis County District Court, as well as the Travis County Health Department, were required to declassify the land as a cemetery and ensure that a respectful archeological exhumation ensued.
Throughout the process of documentation, the location of the grave site was benchmarked and surveyed into the engineering plans for the proposed SH 130. Analysis of the grave site hardware indicated a burial from approximately 1870 to 1910. Funeral hardware was advertised in catalogues and often sat on a shelf for many years until someone purchased it. Small communities such as Elroy had general stores that likely carried coffins and hardware. This particular wood coffin had hinges and a plaque that read "Mother." This evidence helped to date the historic burial. Later the remains of the woman found there were moved to a perpetual care cemetery in San Leanna, Texas. We referred to this unidentified woman as "Iris Moore" based on the bed of iris and the location near Moore Road. Multiple reports were filed with the state and the original landscape of Moore Road was changed forever.
Posted August 01, 2014

Read stories from people across Texas
Browse All Stories