The Reconstruction of Fort Parker
The Texas Story Project.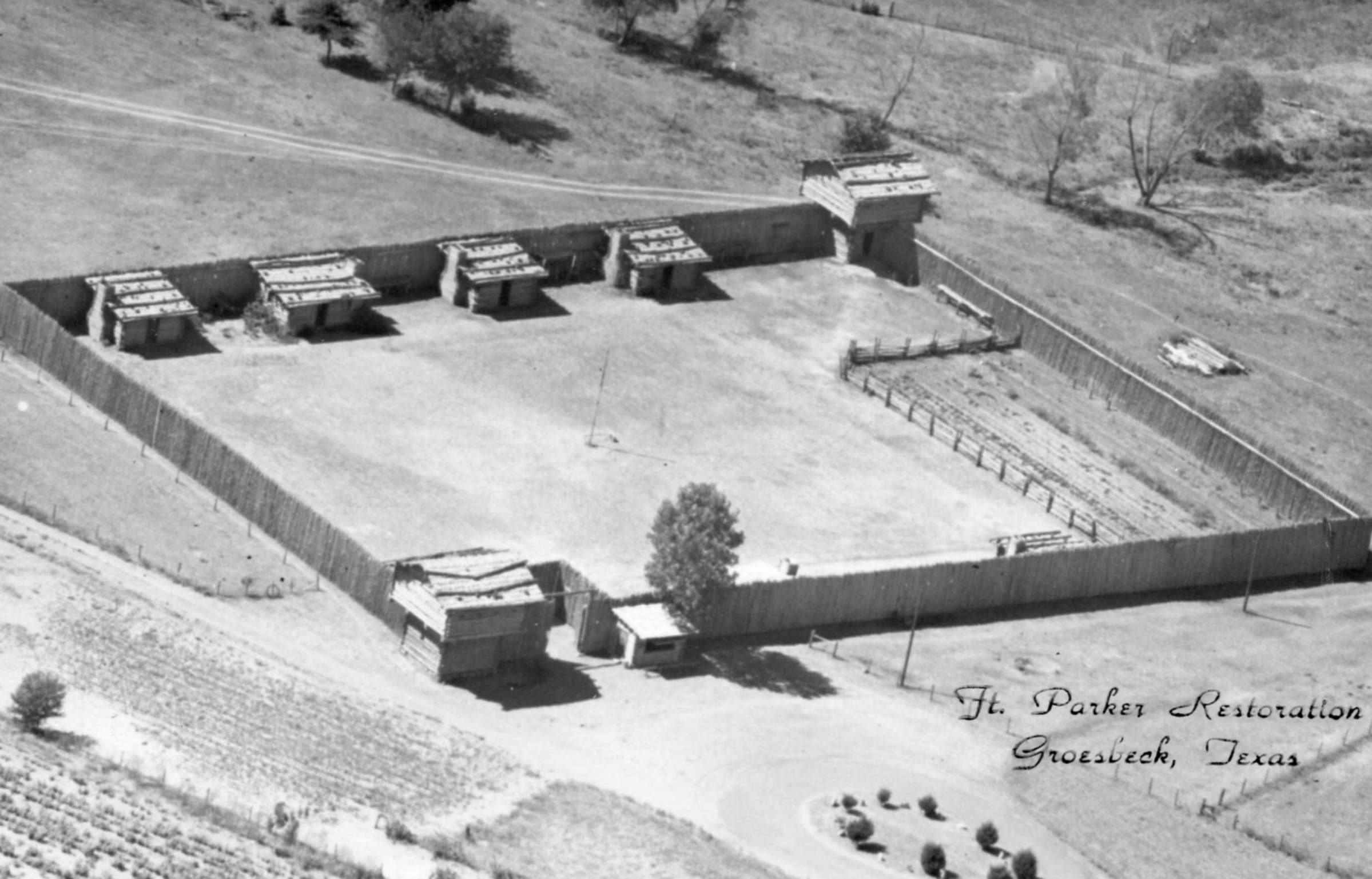 Postcar of Fort parker ca. 1950
I visited Fort Parker, located only two miles from my home in Groesbeck, many times during my childhood. The first Anglo American settlement in Limestone County, the fort was built to protect new settlers from American Indian attacks. However, Fort Parker might be best known for the attack that led to the capture of nine-year old Cynthia Ann Parker by the Comanche and Kiowa in 1836. Cythina Ann grew up with the Comanche and married a chief named Peta Nocona. Their son, Quanah Parker, was chief of the Quahadi Comanche and led raids against settlements in west Texas until 1875, at which time he led his people to a reservation in southwestern Indian Territory.
Visiting Fort Parker as a child, I remember how awesome it was to enter through the huge gates and walk into the large open area completely surrounded by high log walls. I can remember climbing a ladder to gain access to one of the two blockades where I would pretend to shoot attacking invaders through the gun slits. It was a wonderful place for a kid's imagination.
There was a time when the structure did not exist. By 1860, the fort had been dismantled, possibly by later settlers who used the remaining logs to build their cabins. For the celebration of Texas's centennial in 1936, Fort Parker was reconstructed by the Civilian Conservation Corps, shown in this postcard (circa 1950) from the Limestone County Historical Museum. The fort fell into disrepair, but it was completely dismantled and reconstructed again in 1967 by state prisoners from Huntsville. Each year, thousands of visitors tour the site which is owned and operated by Limestone County and the cities of Mexia and Groesbeck.
William F. Reagan is a member of the Old Fort Parker Board of Directors, Chair of the Limestone County Historical Commission, and a teacher for Groesbeck ISD.
Posted July 28, 2014

Read stories from people across Texas
Browse All Stories