Risk and Reward: The Story of an Entrepreneur
The Texas Story Project.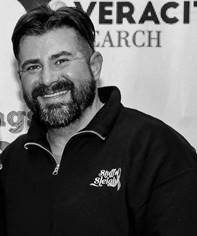 "If you have a true and unique opportunity, go for it. Grab that opportunity by the horns." This is the advice that Garrett Ashmore, a successful entrepreneur, has to say to kids and young adults looking to start a business. Mr. Ashmore has worked for and founded many small businesses. As a college student with a strong interest in business, I could not wait to hear and share his Texas story with others.
Mr. Ashmore grew up in Katy, Texas with his mom. He did not have the luxury to own a lot of things during his childhood, but this is what pushed him to catch the entrepreneurial bug. Some of the small businesses he started included shoe shining his mom's coworkers' shoes, bagging wood shavings from his neighbor's yard to sell to kids with pet hamsters, and mowing lawns around his neighborhood. He was also an astounding student, as he was accepted into Georgetown University in Washington, D.C. and received a full academic scholarship. While at Georgetown, he would trade goats to the Middle East for special Islamic holidays. Mr. Ashmore says that although making money was almost a necessity, he fell in love with his businesses and he became more passionate about entrepreneurship.
After college, Mr. Ashmore worked for Enron, but, unfortunately, they had the largest bankruptcy of 2001 and eventually shut down due to legal reasons. However, a small division started under Enron that used pipelines to lay fiber optic cables. Mr. Ashmore says that his experiences with this division were fun and eventually, there was an internet explosion. Shortly after this, he went to graduate school at Texas A&M University in College Station, Texas, where he started a real estate company. In 2005, he saw that the housing market looked like it would crash soon, so he sold everything. Then in 2014, he started an oil and gas energy company in East Texas; he is currently looking to sell that and start a mineral company.
Mr. Ashmore had the opportunity to co-found a non-profit organization with wife, Kelli Ashmore, called Stuff the Sleigh. This organization allows kids diagnosed with cancer to have a joyous Christmas by allowing others to donate presents. Stuff the Sleigh also has other year-round events to help raise money for less fortunate kids. Mr. Ashmore says that he was inspired to give back when he was in high school. He won a trip to go to Russia, but he was held responsible for raising the money. Determined, he emailed companies based in Russia that had branches in Houston asking for donations. He was so happy that people helped him along the way and were doing this out of the goodness of their hearts that he decided he wanted to pay it forward and help others in the future.
When I asked Mr. Ashmore what he thought had been the best investment he ever made, he paused for a couple of seconds to really think. After a while, he said with pride that it was marrying his wife, Kelli, for all sorts of wonderful reasons. He summed up that "she is a solid rock [and] she's a calming force," as well as an incredible mother to their children. After living through his rocky childhood, he is glad to have his wife and kids in his life because "they have been an amazing blessing." Mr. Ashmore says his family has shaped him into the successful entrepreneur he is today; Kelli keeps him so humble and grounded, and his kids have inspired and pushed him to do better and to wisely shoot for the stars.
Mr. Ashmore shared with me that whenever he had a business idea or started working for a company, he faced many hardships and uncertainties. He states that "entrepreneurship is the road less travelled by people" and that there is a tremendous amount of uncertainty. "You never know how or when you'll raise money, when you'll sell your company, [or] when you'll strike it rich." However, whenever one faces these challenges, they should try to create as much certainty as you can. With this in mind, I asked him what advice he would give to kids and young adults who are looking to start their own businesses, but do not know where to start. Happily, he has three main takeaways. First, follow those passions and follow your dreams. Second, take advantage of any unique opportunities that are presented to you. Finally, build a team around you of people you truly trust. Surround yourself with good people and good hearts.
Overall, Mr. Ashmore wants readers to know that fear can be a crippling thing, and it can be your largest enemy. However, you should never "listen to the fear or the nay-sayers." He also extends an invitation to any young entrepreneurs and says if anyone has any great ideas, he would be happy to listen and see if he could help. I hope Mr. Garrett Ashmore inspires us all to shoot for the stars.
---
Natalie Peña attends St. Mary's University and is obtaining a major in Finance and Risk Management with a minor in Applied Mathematics. She is from McAllen, Texas where she lived with both of her parents, her younger sister, and her two dogs. In high school and in her free time, she loves to dance and specializes in jazz, hip-hop, and stepping!
Posted April 11, 2019
TAGGED WITH: St. Mary's University, stmarytx.edu

Read stories from people across Texas
Browse All Stories