The Interurban (Texas Electric Railway)
The Texas Story Project.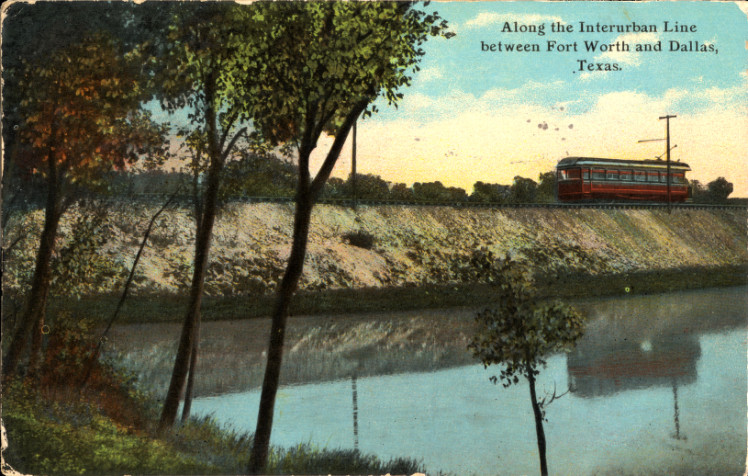 An Interurban postcard, circa 1920.
If you were living in Waco in 1913, you might have read an article in the Waco Morning News on October 29 announcing a new rail line called the Interurban, the final 250-mile extension in the large Texas Electric Railway system.
In its heyday, the Interurban ran from Dallas to Denison, Corsicana, and Waco. Through the merger of several companies, it became the largest interurban railway operator in the south before its demise in 1948. The niche-system concept originated from the need for transportation, mail, and freight service between smaller towns typically not served by the larger steam engine railway systems. Passengers used the reliable, frequent, and affordable service between towns and villages on the route much in the same way they used the intercity streetcar systems in the more developed urban areas.
The first interurban rail service in north and central Texas began in 1901 with the incorporated Denison & Sherman Railway Company that connected the two towns with over 10 miles of track. Colonel J. F. Strickland had purchased much of the stock of this company and was simultaneously developing a 67-mile link between Sherman and Dallas with his own Texas Traction Company which began operation in 1908. In 1911, Strickland and his investors purchased the 10 miles of the Denison & Sherman Company's northern line. As a result, 77 miles of continuous track linked Denison, Sherman, McKinney, and Dallas. The first runs between Denison and Dallas on this line occurred in 1911.
In 1912, the Texas Traction Company acquired a 28-mile line run by the Southern Traction Company that extended from Dallas to Waxahachie. A 97-mile line opened October 12, 1913, which extended that rail service to Waco. A 56-mile line from Dallas to Corsicana was completed about the same time. In 1917, the Texas Traction Company and the Southern Traction Company merged to form the Texas Electric Railway Company and became the largest interurban railway in the south, with more than 200 miles of track.
The main repair facility, known as the Monroe Shops, was built in 1914, four miles south of downtown Dallas, where the lines to Waco and Corsicana split. The Monroe Shops also housed the administrative offices of the Texas Electric Railway Company until the $1,500,000 Dallas Interurban Building was completed two years later.
The Interurban rail service was vigorous and successful for several decades until the automobile became more affordable and was accepted as a primary mode of transportation. The Texas Electric Railway Company's revenue gradually declined and the last Interurban car ran on December 31, 1948.
Posted February 03, 2015
Join 19 others and favorite this
TAGGED WITH: Popular Culture - 20th Century, Railroads

Read stories from people across Texas
Browse All Stories