From a 700 sq. ft. home to landlords – the perseverance of a couple
The Texas Story Project.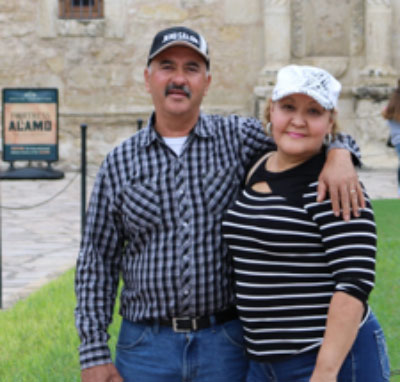 Venturing day to day as a vagabond in the hot sun with no food left to ask for from others Daniel Orocco Valverde used his remaining supply of food, a Snickers bar a day, to sustain himself for another ten days, nearly going mad. Passing through Texas in search of a job as his family ran out of money, my father hitchhiked and walked all across Texas from El Paso, Fort Worth, Brownsville, and San Antonio to find money to stay alive. He didn't know that his journey was the beginning of finding comfort and success.
Starting in El Paso my father ventured for 21 days until he was able to get a ride to Brownsville Texas where he found a job in agriculture. He worked temporary job in a farm maintaining a mile a day rooting out cacti, fixing tractors and other machinery 12 hours every day living on $2.25 per hour for 5 years. In San Antonio he worked two different jobs for 3 years from construction (fixing water lines and other water maintenance jobs in downtown) to being a restaurant waiter for 2 years. After returning from Mexico where he visited family, he arrived at Big Springs where he found his most enjoyable, highest paid job as a window and tint maker for storm homes for 5 years. He faced a bit more of difficulty in work however as he had a rattlesnake bite which permanently paralyzed his index finger. All of his jobs were primarily in the hot sun for 10 to 12 hours a day on a low wage.
While he tried to visit family once every few years, he found my mother Atocha Maldonado. They fell in love and were married within year trying to find a place to live. As my mother had a relative in Fort Worth, they decided to make a living there. My father found a job as a steel roll operator and welder for another 16 years where he hated the atmosphere and the continuous smoking of cigarettes that occurred at the time. As they were poor, my parents started in a small home of 700 sq. ft which had graffiti, wood covering the windows, no fence, and no driveway. Making the best of the situation my parents redesigned the home to look wonderfully similar to a dollhouse and paid off within five years. This only came into effect through my father's work experience along with my mother's knowledge in home design and money savings.
My parents continued to invest and save money wherever possible from groceries, tools, and other living expenses to invest further in real estate. They purchased or leased homes which were foreclosed by the government to use for renting to further increase their savings. My mother worked hard as well throughout the years starting as an independent contractor to the ranks of executive director of a major home design company. She accomplished her success making sales far beyond what was demanded in her job. During those years of my father's prime, my mother's highest point in sales, and the birth of me and my siblings my parents obtained the majority of their wealth. My mother managed the money, the costs, and business whereas my father helped to maintain and ensure the home and the renters were keeping the house in good condition.
The crash of 2008 along with many lawsuits for the company of broken contracts led my mother's company to go into chapter 11 bankruptcy where a once a multibillion-dollar company was bought for 7 million dollars by another direct sales company. Under the new company the commission was reduced to less than half of what the previous company had to offer. Eventually this company had fallen out of business due to low recognition leaving my mother unemployed. With the loss of income my parents were unable to invest much further and had only enough to keep maintaining what they had with more work to make up for it.
From the many years my father has overworked from such a young age he had experienced many injuries, been exposed to many toxic chemicals as well as sun exposure. All these factors had led to heart problems and growing weaker. Despite collapsing many times and being sent to the hospital my father still never gave up the will to work hard. He is a stubborn man who only gradually reduced his working hours from 5 to 8 hours each day at the current age of 60. Great news came as the increased projects in Fort Worth led to a growth in demand for the homes. This in part with my mother being able to be employed again after many years led to a more secure stream of income for the family.
My parents still manage the homes of various renters from those who fix the foundation or destroy everything else to immigrants who came to the United States looking for a better life. My parents continue to help the elderly, homeless, and immigrants by working day to day mowing lawns, and renting homes to those who need it. They have been working hard since adolescence building their prosperity with the opportunities Texas had given them. Having nothing as vagabonds to a 600ft home to a two-story home my parents were able to prosper and have a family. Through their fantastic achievements working from the bottom up in Texas, I hope that I can make them proud working just as hard to help others in need.
---
Daniel Valverde has been making new inventions and studying currently as a Junior in Engineering Science. His most prominent invention included the use of a double bag pack connected to an electrician's belt which he used to carry his school supplies home, running several miles to lose weight. He has made many modifications improving the durability, versatility, and weight of the bag over the years. Born in Fort Worth, Daniel hopes to build and improve machinery and tools to assist others.
Posted September 17, 2019
TAGGED WITH: St. Mary's University, stmarytx.edu

Read stories from people across Texas
Browse All Stories