David M. Brown - writer, producer, director, starry-eyed dreamer
The Texas Story Project.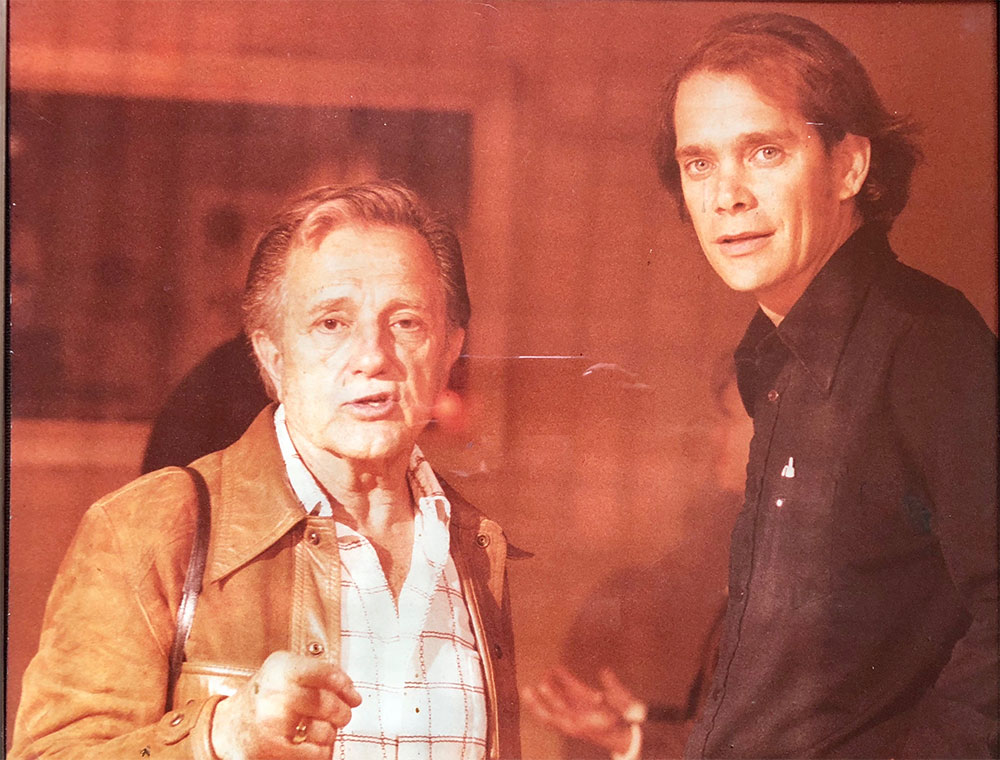 My father was born and raised in Oklahoma, pursued an acting career in Hollywood and became a political organizer in North Dakota. In the late 1970s while visiting relatives, he heard Townes Van Zandt on the radio and promptly went inside the house and told his family that he was moving to Austin. To this day Townes Van Zandt is one of my dad's favorite artists.
He immediately enrolled in a graduate program at UT film school and enjoyed the spirited classes with an incredible faculty including visiting professor Edward Dmytryk (whose filmmaking career spanned forty years, Oscar nominations, and prison time for being one of the Hollywood Ten - a group of filmmakers who refused to testify before the House Un-American Activities Committee investigating communist activity in the U.S.) and noted film historian and theorist Tom Schatz. He realized there was an enormous wealth of filmmaking talent that wasn't accessible to the public. He states that having this experience set in motion the work he would eventually do. "When I moved to Austin, I walked into a hotbed of artistic activity - music and film, students and teachers were rampant. Creative energy was everywhere". My father had found what he was looking for.
From this came "The Austin Community Movie Company," the first non-profit, community feature filmmaking organization in the United States. By combining education and training with actual moviemaking, they contended that the best way to learn to make a motion picture was to make a motion picture. For two years in the early 80s, ACMC used the skills of expert filmmakers to train hundreds of highly motivated Austinites in all areas of film production including - screen acting, screenwriting, filmmaking, art direction, and editing. The goal was to raise $25,000 per year to establish a repertory company engaged in making movies. Unfortunately, just when they were set to take off, the oil and gas boom suddenly crashed and all the money dried up. The legacy of ACMC continues as students who trained in the early '80s are now the old guard in Austin talent. Some have gone on to be successful in the film industry.
After ACMC fell through, my dad landed at another trailblazing Austin media spot - Texas Cable Network. TCN was a cable programming service that provided 20 hours of original programming a week to the top twelve markets in Texas during the mid '80s. My dad, an avid tennis player, produced Lone Star Tennis, Sportstalk and Filmscape for the network. TCN reached four million households. Lone Star Tennis was a magazine style format program that incorporated footage from three annual professional tennis events in Texas. From those events they got interviews and tips with world class players. Ultimately, TCN met the same fate as ACMC as local money sources evaporated. But lucky for me, TCN and Lone Star Tennis were what introduced my parents to each other. My mom, Rebecca Bass, edited Lone Star Tennis. My mom and dad worked together for years doing tennis shows. After the tennis show, my mom worked at Wimbledon for HBO and on NBCs Unsolved Mysteries.
Brendan Brown is a 20 year old sophomore at St.Mary's University. I play on the tennis team and am a psychology major. I aspire to be a writer when I grow up, writing songs and books.
Posted October 11, 2018
Join 1 other and favorite this
TAGGED WITH: St. Mary's University, stmarytx.edu

Read stories from people across Texas
Browse All Stories