Birdie Wade: Nacogdoches Leader
The Texas Story Project.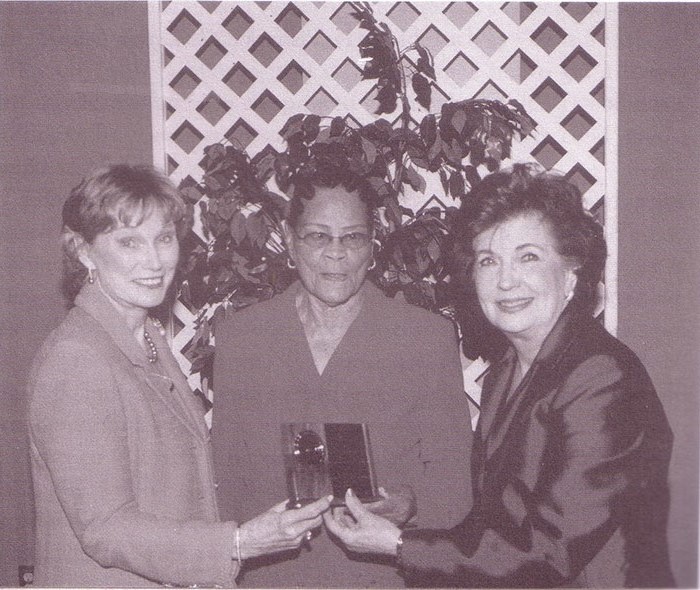 Birdie Wade (center) receiving an award for excellence.
There are many fine educators in Nacogdoches, Texas, and Birdie Wade was one of the best.
Birdie came from a large family of fifteen children. She often helped her mother with the care of her siblings. Birdie lived in a rural area of Nacogdoches, however, she walked seven miles to a bus stop so she could attend high school. After high school, Birdie thought she would remain at home to take care of her parents, but she married a widower with five small children. They then had three more children.
Birdie believed in the importance of a good education and actively tutored her own children. When Stephen F. Austin University in Nacogdoches allowed African Americans into the university, she decided to attend and received her bachelor's degree in social work. She initiated many programs by collecting clothing for those in need. The Sharing Post, a well-organized clothing distribution program, developed from her early work. She also collected food for distribution. The elderly in her community seemed bored, so she organized clubs to engage them. She also supported African American students new to the university by giving information sessions, tutoring, and even providing them a home away from home.
Birdie retired from social work at age 65, only to be hired by the local school district to provide tutoring to homebound students. She did this for 13 years. She also taught volunteer homemaking classes for residents of public housing. Birdie Wade touched the lives of many in Nacogdoches through her legacy of service.
Pauline M. Sampson, Ph.D., is a professor in educational leadership at Stephen F. Austin State University in Nacogdoches.
Posted December 05, 2014
Join 8 others and favorite this
TAGGED WITH: African-American Experience, Black History Month, Unforgettable Characters, Women's Experience

Read stories from people across Texas
Browse All Stories