A Sentiment to Science Students
The Texas Story Project.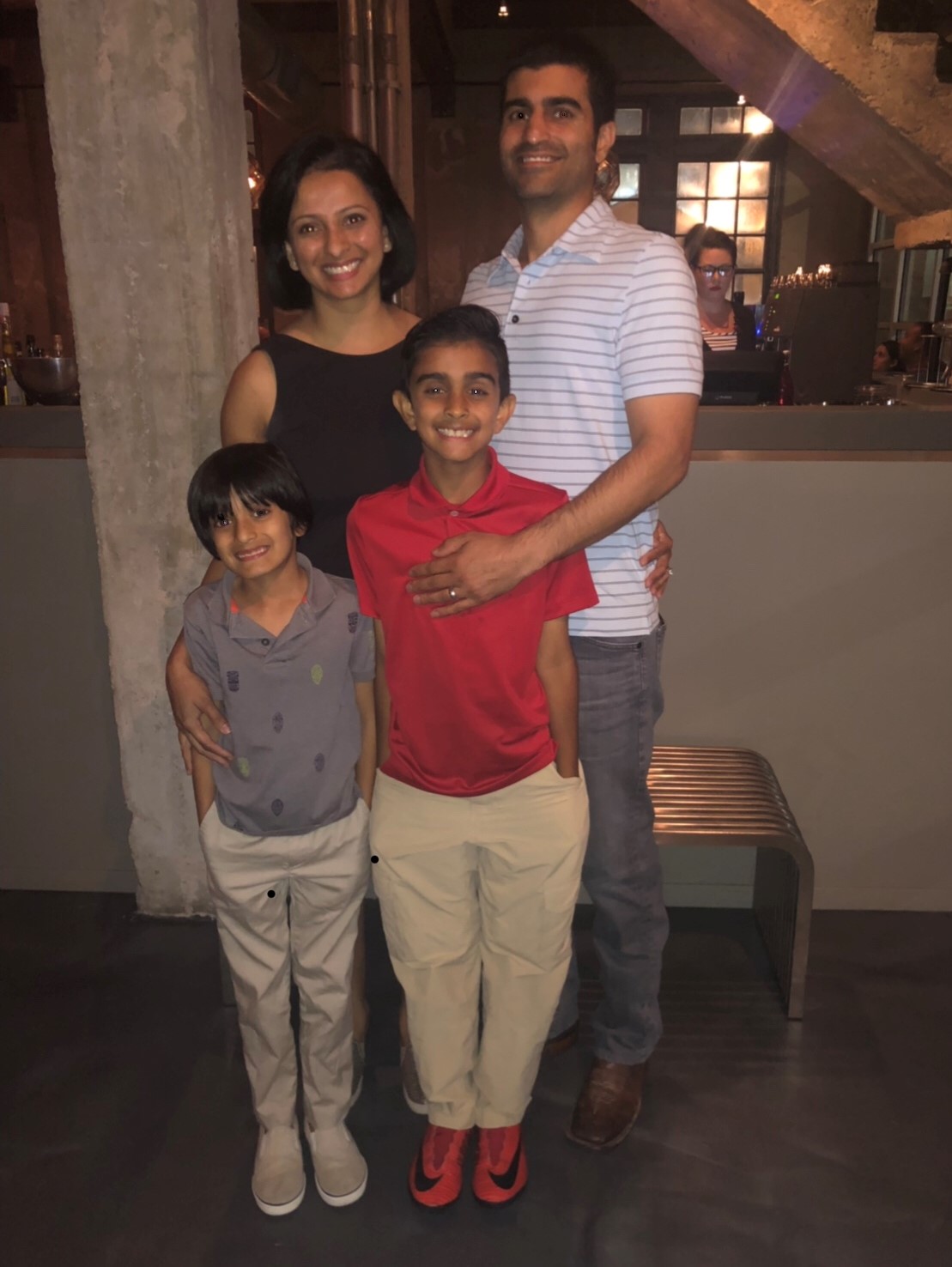 Family photo in Downtown San Antonio. Bijal, Ravi, Syen and Ronan Karia
Being a Texan at heart, Dr. Bijal Karia, who was born in the small town of Dalhart, Texas, has made her mark in the Lone Star State and wants to encourage others to do the same.
Since Dr. Karia was raised in Austin, Texas, she was in proximity of one of the most notable colleges in the state, The University of Texas at Austin. She graduated from UT with a Bachelor of Science in Zoology and Nutrition, along with a Research Honors. She continued her journey at The University of Texas Health Center to receive her PhD in Cellular and Molecular Biology. Dr. Karia has had a strong background of experience in the science field, including being a Postdoctoral Fellow at The University of Texas Health Center San Antonio and working as the Director of Research at bioAffinity. Over the years, her research has consisted of topics such as "P53 Suppression of Homologous Recombination and Maintenance of Genomic Integrity" and ways to "improve immunotherapy in bladder cancer by targeting immune dysfunction." She is currently employed at St. Mary's University as a Biology I and II lab instructor.
Dr. Karia spoke about the comfort she found in growing up in Austin, Texas. She described it as simple living in a big city, as Austin has a good balance between feeling like a big staple city in Texas and still having a strong sense of community and its unique almost hippie-like feeling. She now resides in San Antonio, where she has lived for over 16 years. To further elaborate on the charm of Texas, Dr. Karia mentioned how Texas is known for friendliness. Nowhere else displays the southern hospitality quite like Texas does. The willingness to consistently help others can range from always holding the door for someone, to a professor ensuring that no student is left behind to struggle alone. It is almost as though Texans are held to a silent standard of conduct that a vast majority of citizens follow. Dr. Karia is a good example of such conduct. For example, her first-year Biology lab students are always full of questions. There are many professors or instructors who simply cannot connect with their students, therefore leading them to not understand their students' potential lack of understanding. Dr. Karia creates an encouraging work environment for her students to ask as many questions as they need and not feel judged.
The field of science can be intimidating when you first jump into it, but Dr. Karia wants aspiring science students to know there is a place for every single person to fit in and succeed. Pretty much every college student has the same mindset, get straight A's, ace all exams, and be the top of the class. While this is something to strive for, it is best to realize that some excel more than others, in certain areas of course. Dr. Karia said that even if compared to your peers you appear to be the underdog, there is somewhere in this field where you can still belong. She used the example of an operating room. Most people tend to focus on the surgeon, so this tends to be students' goal. However, there are many other people involved in a surgery other than a surgeon. Each of these people, whether they be a surgical tech, a nurse, an anesthesiologist, or a physician assistant, are equally as important as the surgeon. So, just in the area of surgery, there is a multitude of different paths to take, and this can apply to whatever area of study a science student chooses. She wants students to be honest with themselves and with what they are passionate about doing. Dr. Karia also encourages people to factor in what they imagine their future will hold, such as children and families. She admits to never even thinking about this while going through school, but wants people to be able to find a good balance for their life. The moral of her story is to face the science field head on and be open to finding your fit, because where you belong just might end up surprising you.
---
Angelina DeSilvester is a freshman at St. Mary's University and is studying Forensic Science Criminology with a minor in Biology. She plans to work in forensics in any area she possibly can. In her spare time, she enjoys art, videogames, and time with her family.
Posted March 03, 2020
Join 1 other and favorite this
TAGGED WITH: St. Mary's University, stmarytx.edu, Women's Experience

Read stories from people across Texas
Browse All Stories