"The Storming of Chapultepec - General Pillow's Attack"
1851 lithograph depicting decisive battle in the Mexican-American War
Print Page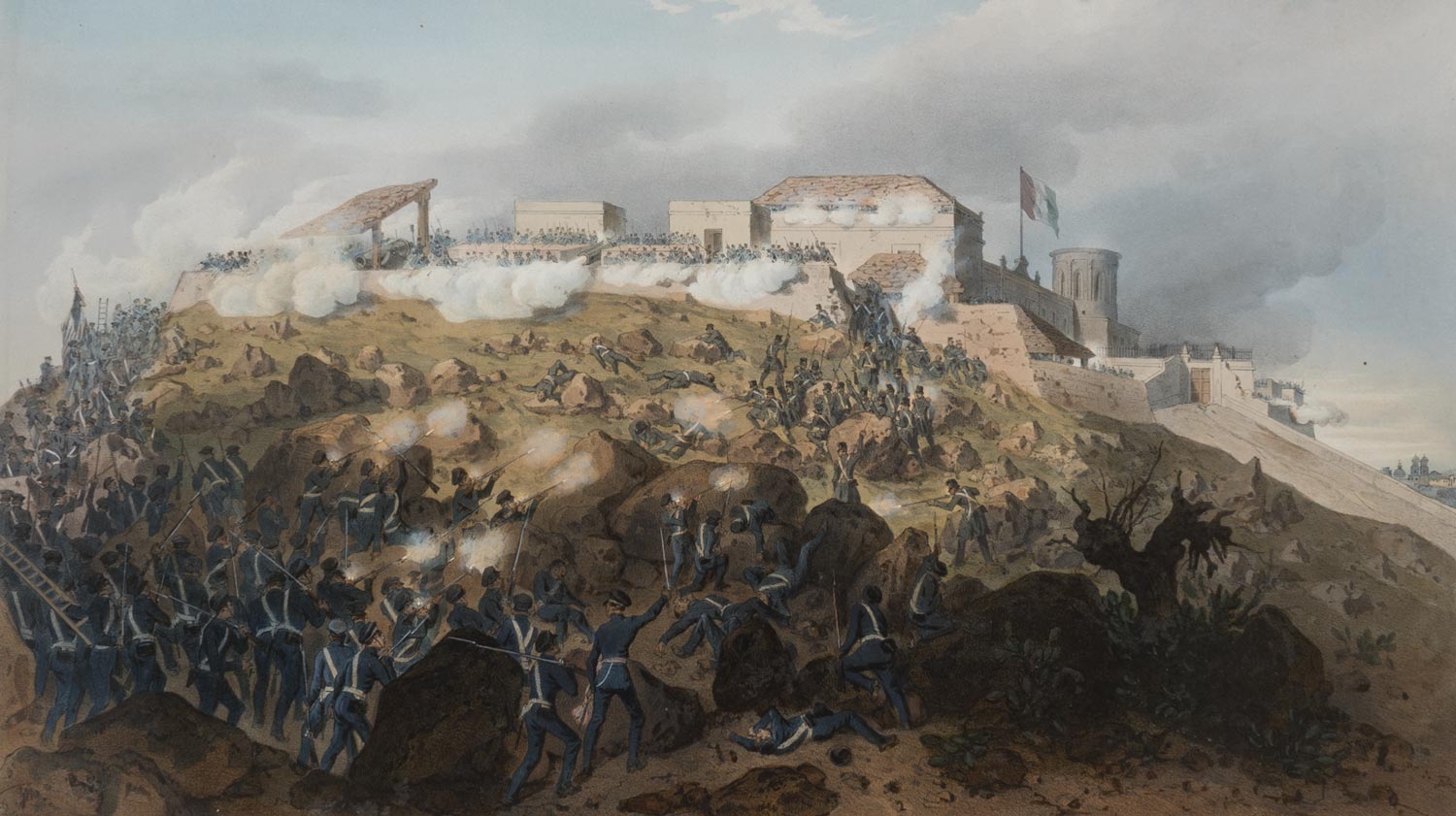 1851 lithograph by German artist Carl Nebel
The Rio Grande seems a natural international boundary between the United States and Mexico—but that wasn't a settled matter when Texas joined the Union in 1845. At the time, the Mexican government asserted that the Nueces River, more than 200 miles to the north of the Rio Grande, was the border between its nation and Texas. Growing frustrated with the boundary dispute, on January 13, 1846, U.S. President James Polk ordered General Zachary Taylor's army, stationed in Corpus Christi, to advance on the Rio Grande when Mexican troops crossed the river and attacked a U.S. patrol. The following May, Polk asked Congress to declare war. They did, and the two-year conflict known as the Mexican War (1846-1848) began.
This lithograph, The Storming of Chapultepec, by Carl Nebel, was produced in 1851. It commemorates the Battle of Chapultepec in Mexico City. The battle took place on September 12 and 13, 1847, and was led by General Gideon Johnson Pillow. General Pillow attacked the Chapultepec castle with his 2,500 soldiers, successfully navigating the western slope and storming its walls. Chapultepec fell and General Antonio Lopez de Santa Anna's defensive front was greatly diminished.
The Mexican War ended in 1848 with the signing of the Treaty of Guadalupe-Hidalgo, which established the United States' border with Mexico as we know it today.
Lender
Texas State Library and Archives Commission
Display Status
This artifact is not on view.
"The Storming of Chapultepec - General Pillow's Attack"
Artifact from Corpus Christi

Read stories from people across Texas
Browse All Stories