Portrait of St. Anthony
Blessing the horses and farm animals
Print Page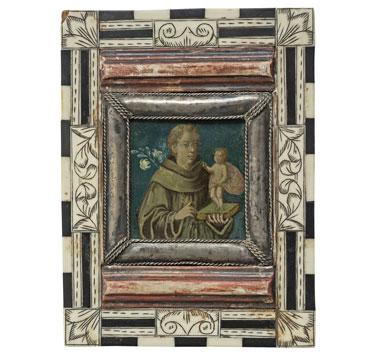 Blessing for the horses and farm animals in Spanish ranch houses
Many Spanish ranchers who settled in Texas in the 1700s were Catholics. They held St. Anthony, a Franciscan, and the patron saint of horses, in especially high esteem and often hung portraits of him in their ranch houses.
Lender
Enrique Guerra, San Vicente Ranch, Linn
About
Artworks
Late 1700s
Display Status
This artifact is currently on view.
Portrait of St. Anthony
Artifact from South Texas Plains

Read stories from people across Texas
Browse All Stories