Silver Tray for U.S. Representative from Texas
In honor of Sam Rayburn, longest-server Speaker of the U.S. House of Representatives
Print Page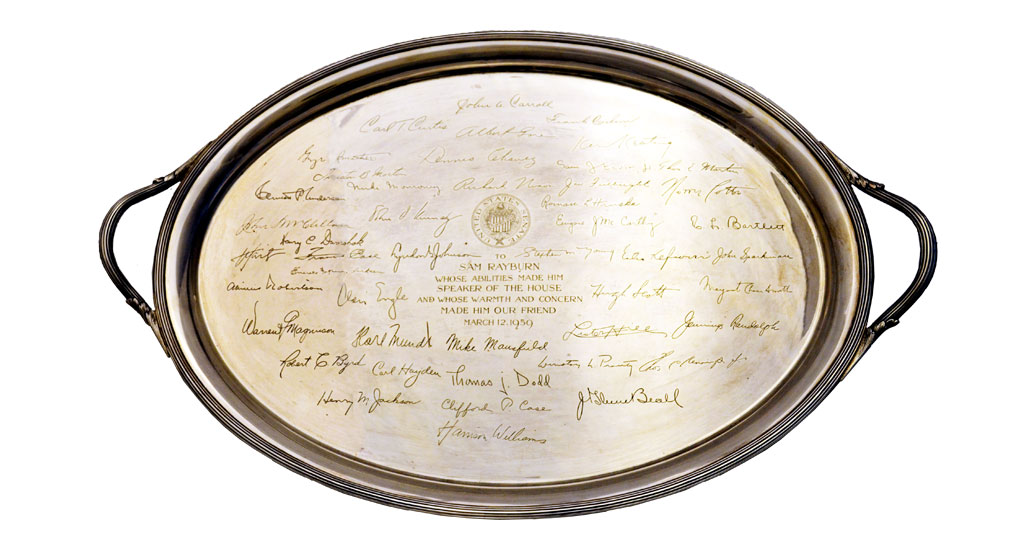 Silver tray
Texas has produced many towering national political figures. One of the most powerful and respected was Sam Rayburn of Bonham. Rayburn was elected to the Texas House of Representatives in 1908 and became its youngest speaker at age 29. In 1912, he was elected to the U.S. House of Representatives, rising through the ranks to become the Democratic leader in 1936 and the Speaker of the House in 1940. Except for two terms when the Republicans controlled the House, he served as Speaker until his death in 1961.
Rayburn was famed for his personal integrity and quiet, behind-the-scenes leadership style. On March 15, 1959, during his 15th year as Speaker, forty-six members of the U.S. Senate who had served under Rayburn in the House of Representatives presented him with this engraved silver tray. It reads, "To Sam Rayburn Whose Abilities Made Him Speaker of the House and whose Warmth and Concern Made Him Our Friend." Among the inscriptions are those of three men who would serve consecutively as President of the United States— John Kennedy, Lyndon Johnson, and Richard Nixon. Johnson was one of Rayburn's protégés and closest friends.
Artifact Spotlight
July 2013
Lender
The Dolph Briscoe Center for American History, The University of Texas at Austin
Display Status
This artifact is not on view.
Silver Tray for U.S. Representative from Texas
Artifact from Sam Rayburn House, Bonham, Fannin County

Read stories from people across Texas
Browse All Stories