Where the World's Finest Grapefruit Grow
Holiday Citrus Gift Box, 1920s-1940s
Print Page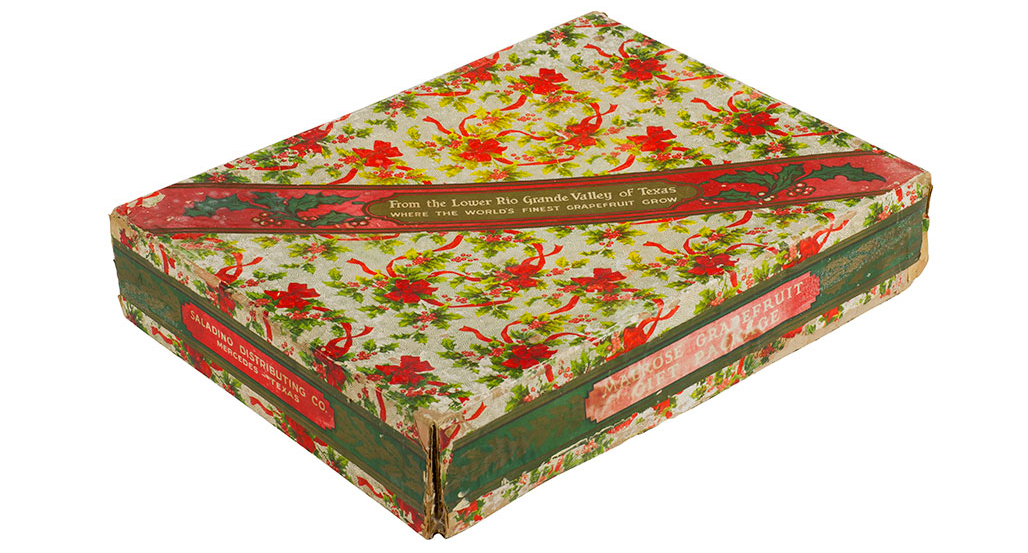 Holiday-themed box of Maerose grapefruit produced in the early 20th century.
by Tom Wancho, Exhibit Planner
In the Valley lands of south Texas, where the favorable Texas climate supports an ideal winter growing season, 28,000 acres are planted with citrus crops. Those crops yield fruits ranging from tangerines, oranges, apples, avocadoes, tomatoes, and the king of all Texas fruits, the red grapefruit. In fact, 70% of all fruit produced in the Valley is red grapefruit, making it the state fruit of Texas.
Farmers in the area discovered a long time ago that grapefruit makes a great gift. This holiday-themed box of Maerose grapefruit was produced in the early 20th century by the Saldino Distributing Company in Mercedes, Texas. According to a November 30, 1929 issue of The Brownsville Herald, 60,000 gift boxes of Maerose grapefruit had been mailed to all parts of the United States and Canada. That holiday tradition continues today.
Winter Texans (those from the North and Midwestern areas of the country who spend their winters in the more desirable temperatures of South Texas) are largely responsible for the growth of the citrus gift tradition. They would often ship fruit back home to their friends as gifts. When those same friends began ordering the citrus for themselves, an industry was born.
Artifact Spotlight
December 2014
Lender
Museum of South Texas History, Edinburg
About
Time Period: 1866 - 1936
Display Status
This artifact is not on view.
Where the World's Finest Grapefruit Grow
Artifact from Edinburg, Texas

Read stories from people across Texas
Browse All Stories