Texas Artist Series: Elana James
Programs
May 18, 2018 7:00pm - 8:30pm
Experience the rich diversity of Texas's cultural heritage. From world-renowned concert pianists to award-winning authors, cutting-edge filmmakers to dance troupes, this series explores the arts.
Program Details
Join violinist and singer/songwriter, Elana James for a concert in conjunction with Rodeo! The Exhibition. Elana is an internationally acclaimed performer who has been featured at countless major concerts and music festivals worldwide. A regular guest on Prairie Home Companion, she has also appeared on The Grand Ole Opry, All Things Considered, and many others. Along with the time honored Texas traditions of jazz and western swing, Elana's original material crosses into the modern indie folk world with ease. Don't miss this Texas Artist in concert as she blends these styles seamlessly to form her own unique sound.
Before the show enjoy a reception with snacks, cash bar and admission to Rodeo! The Exhibition from 6-7pm. Concert begins at 7pm in the Texas Spirit Theater.
The program is presented with support from Texas Commission on the Arts.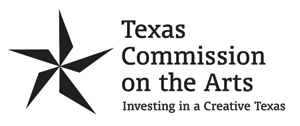 Sponsored by the Albert and Ethel Herzstein Hall Fund.
Additional support provided by Dudley Bros. Ranch Family
The Bullock Texas State History Museum is owned and operated by the State of Texas through the State Preservation Board. Additional support of exhibitions and programs is provided by the Texas State History Museum Foundation.
About the Performer
Elana James grew up in Prairie Village, Kansas and began playing Suzuki violin at age four. Her mother is a professional violinist who used to play in the Kansas City Symphony. She wasn't born in Texas but, she got here as soon as she could. It took James almost twenty years to decide between the violin and the fiddle, but in her mid-twenties, after much soul searching, James found her calling in American roots music and has never looked back.
In 2006, performing with the Hot Club of Cowtown, James had the honor of representing the U. S. State Department as a Musical Ambassador throughout Georgia, Armenia and Azerbaijan playing everything from Texas hoedowns to American Songbook standards. She has been a featured guest on A Prairie Home Companion, the Grand Ol' Opry, the Women in Jazz series at Jazz at Lincoln Center, and at festivals and concerts throughout the world, including the Glastonbury Festival in England, the Fuji Rock Festival in Japan, Australia's Byron Bay Blues and Roots Festival, the Rochester Jazz Festival, Hardly Strictly Bluegrass Festival the Kennedy Center's Millenium Stage and the Cambridge Folk Festival. In 2005 James became the first dedicated female instrumentalist in Bob Dylan's touring band in more than thirty years, then toured with him in 2006 as the opening act for his United States summer tour. In addition to tours and recording with Bob Dylan, James has also recorded with Willie Nelson, Ray Price, and Merle Haggard to name only a few. In 2004 she was inducted, with her Hot Club band mates, into the Texas Western Swing Hall of Fame.
James graduated cum laude with a B.A. in Comparative Religion from Barnard College, Columbia University, in New York while studying violin and viola at the Manhattan School of Music as a student of Lucie Robert and Karen Ritscher. James is also a veteran horse wrangler and world traveler. She studied Dhrupad, an early form of North Indian Classical music, with Pandit Vidhur Malik in Brindavan, India. Editorial jobs in New York City in the 1990s were punctuated by several summers at a ranches in northern Colorado where James worked as a horse packer and wrangler and playing fiddle in a cowboy band. James is an alumni of the Meadowmount School of Music, the New York Youth Symphony, The Columbia University Chamber Music Program, the New York String Orchestra Seminar with Alexander Schneider and the American Conservatory in Fontainebleau, France.