A Wedding Gift from the Tennessee Colony
The Texas Story Project.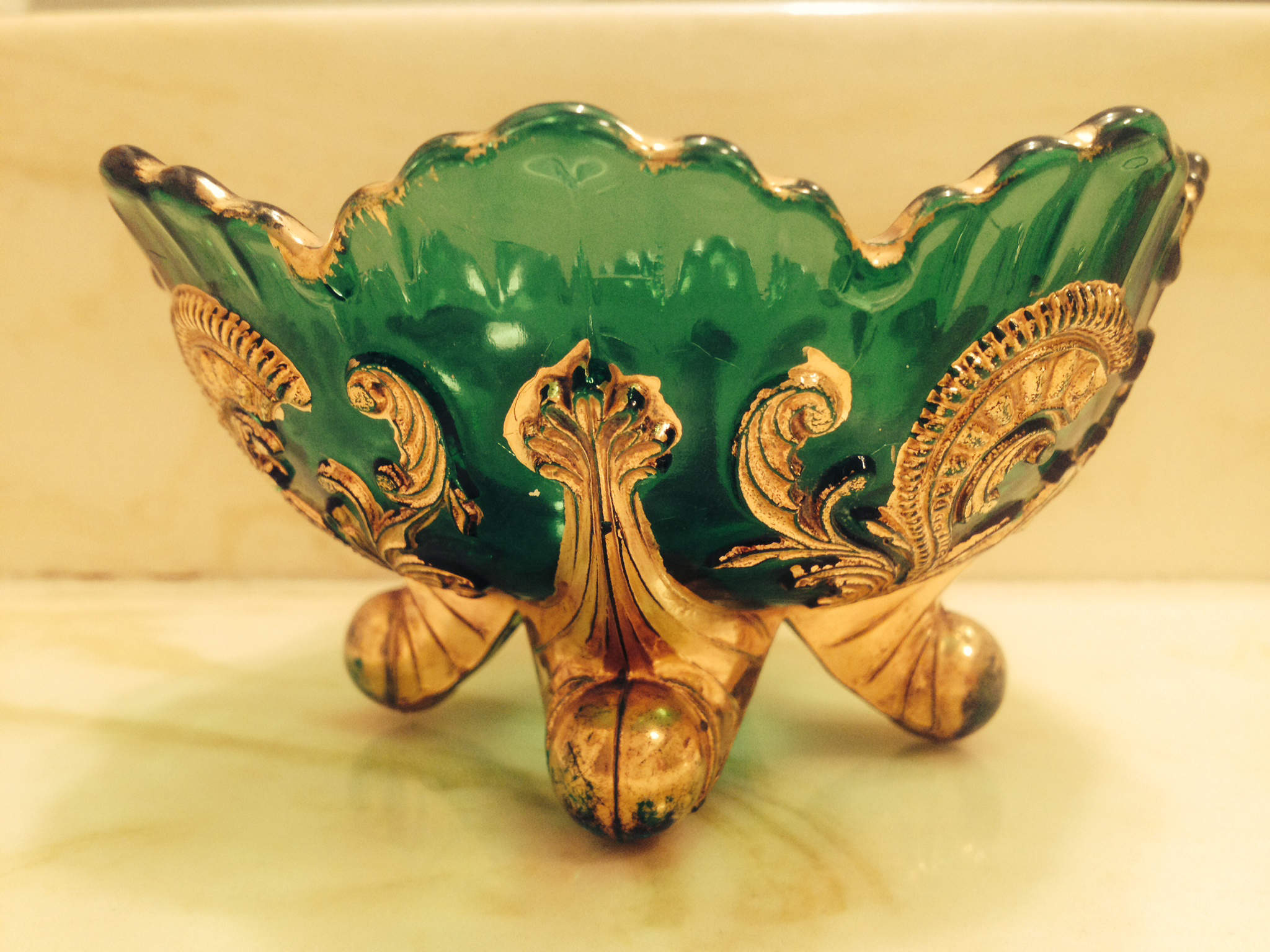 Grandmother's ice cream bowl
My maternal grandparents, William Mase Hudson and Mamie Iva Scarbrough, grew up at Tennessee Colony in the northwest part of Anderson County. Named for its Tennessee settlers, the colony also had a number of settlers from Alabama. Mase and Iva were descendants of some of the earliest Alabama settlers.
At the ages of 22 and 20, Mase and Iva were married in the neighboring community of Blackfoot on Sunday, July 17, 1910. Justice of the Peace J. L. Gage married them while they were seated in the wagon in which they traveled! My grandmother told me this story when I was a child, and I thought it was so strange. Although Mase died a few years before I was born, Iva lived near us in the Tennessee Colony.

I am reminded of their wedding by two beautiful bowls that my grandmother handed down to me. The bowls were part of what my mother called an ice cream set: a large bowl and four smaller matching bowls, all dark green in color with painted gold filigree-type designs on it. They were a gift from Iva's cousin Marcus Avant, another descendant of an early Tennessee Colony family. Iva's brother Sam Scarbrough had the large bowl and gave it to someone outside the family. One of the bowls was broken many years ago, and another one remains unaccounted for. Although these two bowls will eventually go to another granddaughter, I treasure my time with them as a reminder of my grandmother.

Bonnie Woolverton is a seventh generation in Anderson County resident, long-time researcher, genealogist, local historian, and co-author of Historical Markers, Monuments, and Much More in Anderson County.
Posted July 28, 2014

Read stories from people across Texas
Browse All Stories