Texas Pacific Coal & Oil Company Sign
Sign marking the company's lease in an evolving industry
Print Page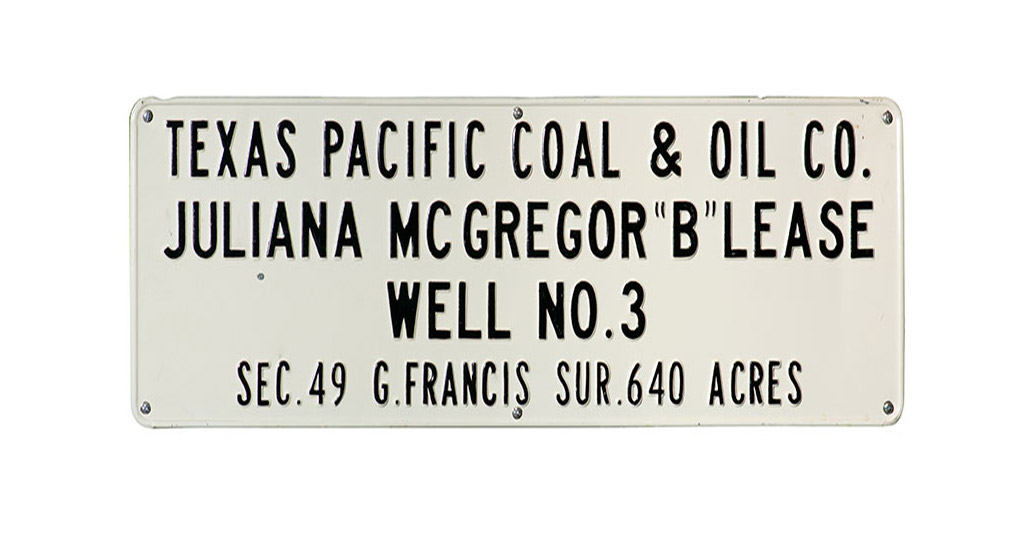 Texas & Pacific Coal & Oil Company sign
Established in 1888 by Robert Dickey Hunter and H.K. Thurber of New York, Texas Pacific Coal & Oil Company provided nearly half of the coal supply for the state of Texas by the early 1900s.
The company was responsible for establishing the historic mining town of Thurber. However, the mining industry declined sharply in the 1920s due to the competition from petroleum and electricity, and Thurber is now deserted. The mining industry saw an upswing in the 1950s when the Aluminum Company of America (ALCOA) began using lignite to generate its electricity. This sign marked a 1950s Texas Pacific Coal & Oil Company lease, an agreement between the company and a landowner allowing access to minerals on the property.
Lender
Petroleum and Geosystems Engineering Department, The University of Texas at Austin
About
Signs
12" Length x 36" Height
early 1950s
Display Status
This artifact is not on view.
Texas Pacific Coal & Oil Company Sign
Artifact from Thurber, Erath County

Read stories from people across Texas
Browse All Stories