Shoulder Corsage of Rio Grande Valley's Duchess of Citrus Grove
Celebrating citrus through costume and fiesta
Print Page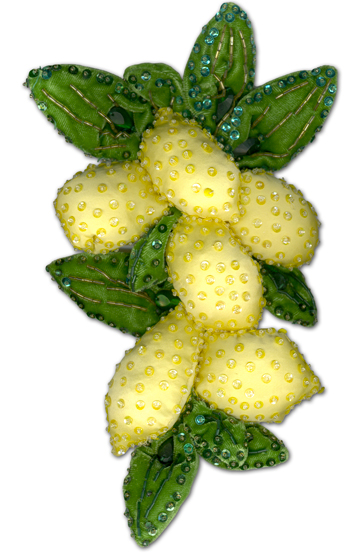 Lemon-themed shoulder corsage
The Rio Grande Valley loves its citrus.
Citrus innovator John Harry Shary helped to create the Texas Citrus Fiesta in in the 1920s. That celebration in Mission still occurs annually. Citrus was such a major part of the Rio Grande Valley's identity that it was often used to represent the region at events throughout Texas. This lemon-themed shoulder corsage was worn as part of the costume for the Rio Grande Valley's Duchess of Citrus Grove at Corpus Christi's Buccaneer Days in the 1960s.
Lender
Museum of South Texas History, Edinburg
About
Clothing and Accessories
12" Length x 8 1/2" Width x 1 1/2" Depth
ca. 1962
Display Status
This artifact is not on view.
Shoulder Corsage of Rio Grande Valley's Duchess of Citrus Grove
Artifact from Corpus Christi, Nueces County

Read stories from people across Texas
Browse All Stories