Parking and Directions
Everything you need to know about when and where.
Parking and Directions
The entrance to the Bullock Museum's parking garage is located on 18th Street, on the south side of the Museum. The fee is $8.00 for full-day parking. Re-entry and overnight parking are not permitted. After-hours parking is free.
Parking Garage Attended Hours of Operation
Monday - Friday: 6:00 a.m. - 5:00 p.m.
Saturday: 8:00 a.m. - 5:00 p.m.
Sunday: 11:00 a.m. - 5:00 p.m.
Parking during University of Texas home football games is $20. Parking passes and vouchers are not valid on game days. Click here for more information on the UT football schedule. Museum visitors may experience travel delays on game days.
UT Football Home Game Schedule 2015
Saturday, Oct. 24, Time TBD
Kansas State vs. Texas
Saturday, Nov. 7, 7:00 p.m.
Kansas vs. Texas
Thanksgiving, Thursday, Nov. 26, 6:30 p.m.
Texas Tech vs. Texas
Please note: The Bullock Museum does not own or maintain the parking area directly across the street from the Museum.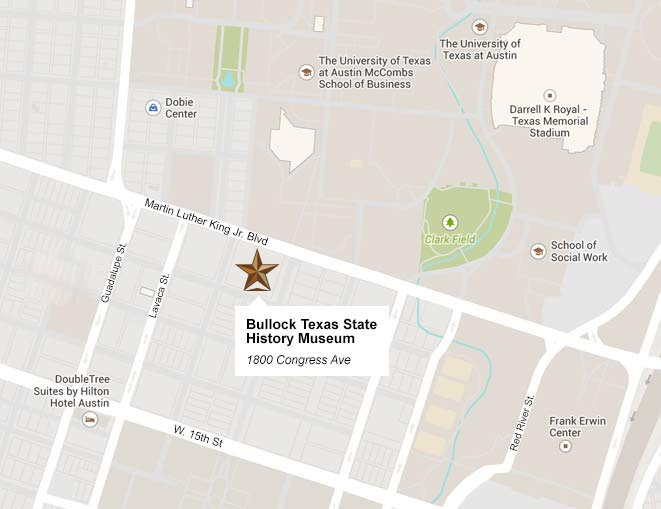 Austin B-Cycle Station
One of Austin B-Cycle's 40 downtown stations is located right across the street from the Museum. Get a bike here 24/7. It's a great way to travel from point A to point B.
For more information on how the cycle network works, how much it costs, and other station locations, visit Austin B-Cycle.
Public Transportation
For the most current information on schedules and fares, please visit Capital Metropolitan Transportation Authority at www.capmetro.org.
Buses in the immediate vicinity:
142 Metric Flyer
103 Manchaca Flyer
110 South Central Flyer
464 MLK Jr/Capitol
Routes stopping within two blocks of the Museum:
1, 2, 5, 7, 18, 19, 111, 127, 171, 481, 935, 982, 985, 987, and 990
Via MetroRapid:
801
Via MetroRail:
Redline to MLK Jr Station to 464 MLK Jr/Capitol Connector